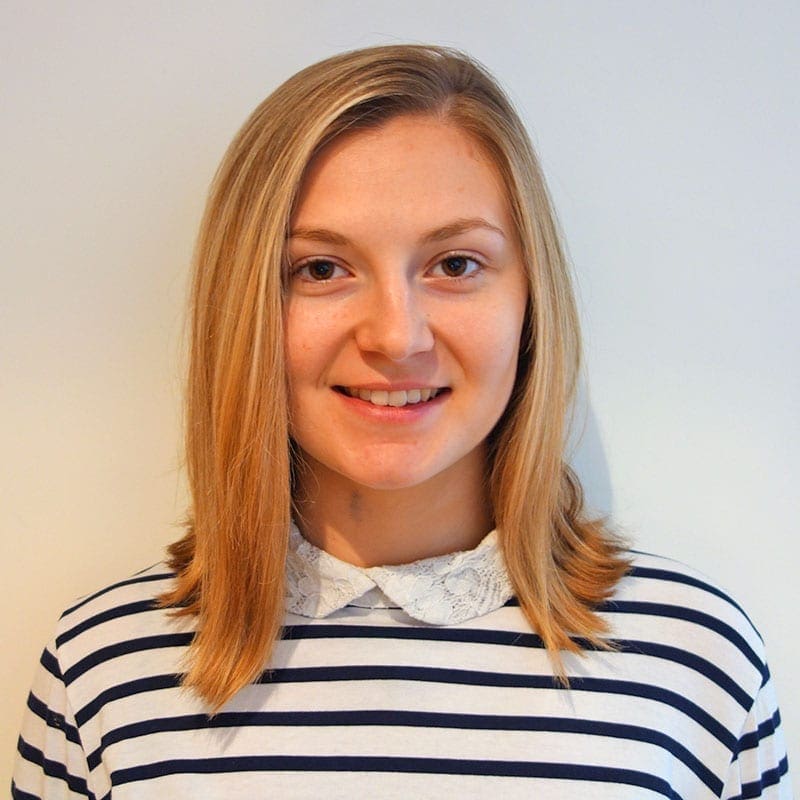 Hannah Knight
Brushstroke 2nd year student
(2 Year Make-Up & Hair BTEC)
Hello – I'm Hannah Knight a 2nd year student at Brushstroke Make-Up School. Recently, I got some valuable make-up work experience as part of the team that tutor, James Anda, took to this year's Salon International. We worked exclusively for Mahogany Hairdressing, doing make-up on the models they used for their hair presentations on the Sunday. Juliette Lumley, Harriet Wilks, Danielle Shepherd, Poppy Perry, Cara Bevan, Georgie King and I had a great time – even though we all collapsed in a tired heap at the end of it!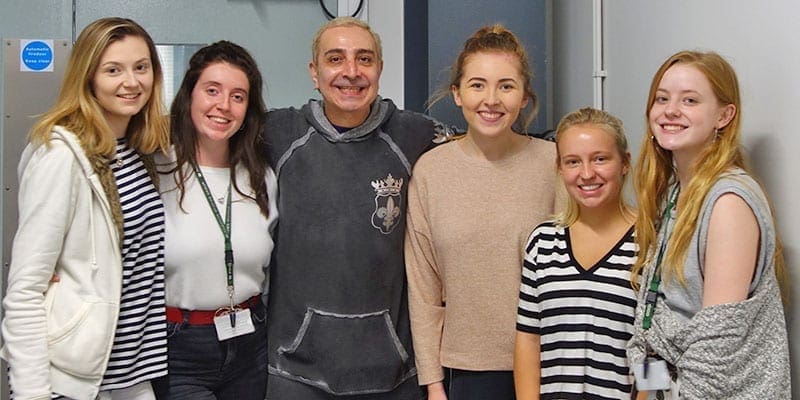 James Anda with his make-up team
It all started for us in class, a few days before. James already had pictures of the 2 looks that Mahogany wanted for their models which we practised to help us save time on the day.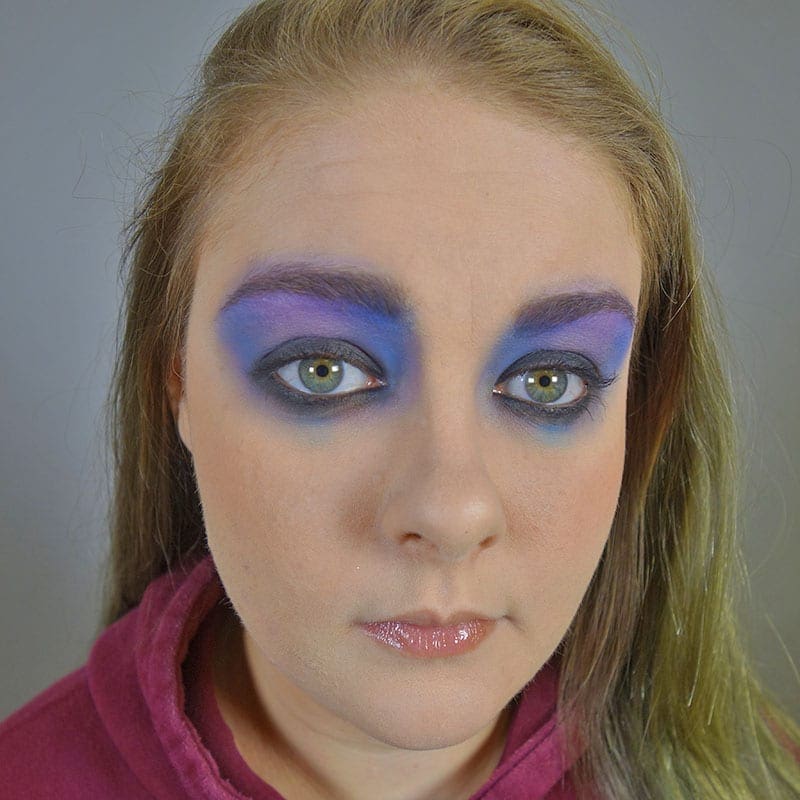 The Victorian Block Eye shadow look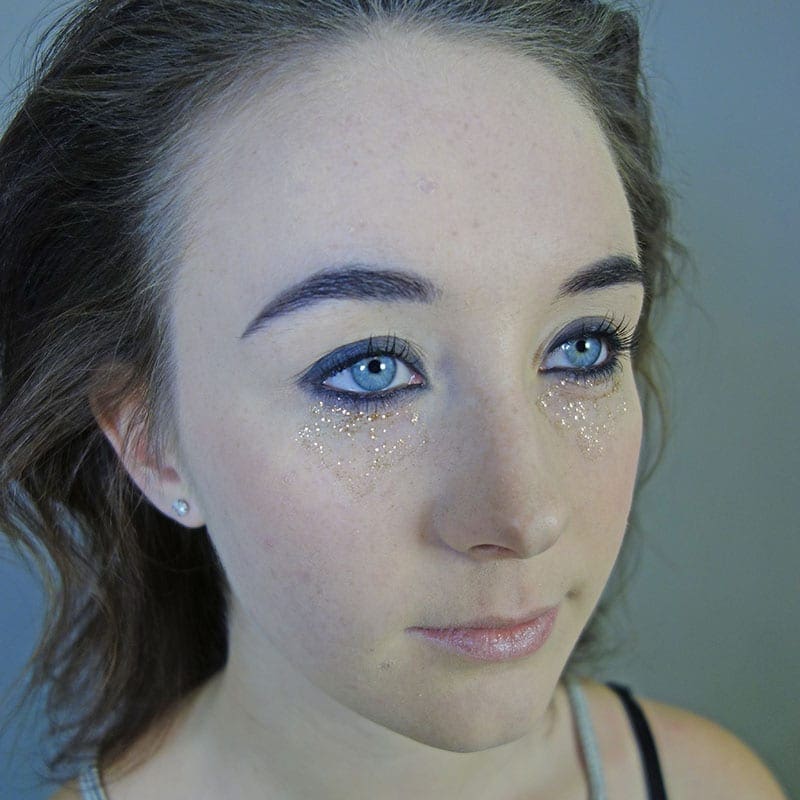 The Teddy Boy Glitter look
The looks were Teddy Boy (glitter) and Victorian (block eye shadow with colour variances). Because they weren't complicated looks, it meant we could spend time on perfecting them. In our 2nd year, we are focusing more time on the detail and finessing our work. For example, James encouraged me to concentrate on my blending skills with eye shadow. Also, I was applying a bit too much glitter during the practice session. It needed to be just a hint rather than a single block of colour so, as the models walked by, their eyes would sparkle. I used a cotton bud to lightly scrape and remove the glitter without ruining the other make-up.
Make-up day for Mahogany Hairdressing models
Our work started at 8am, with setting up the make-up stations and meeting the people from Mahogany. We gathered round the mood board with James and reminded ourselves of the 2 looks and key things to remember. (Taking pictures on our phones meant we always had something to refer to.)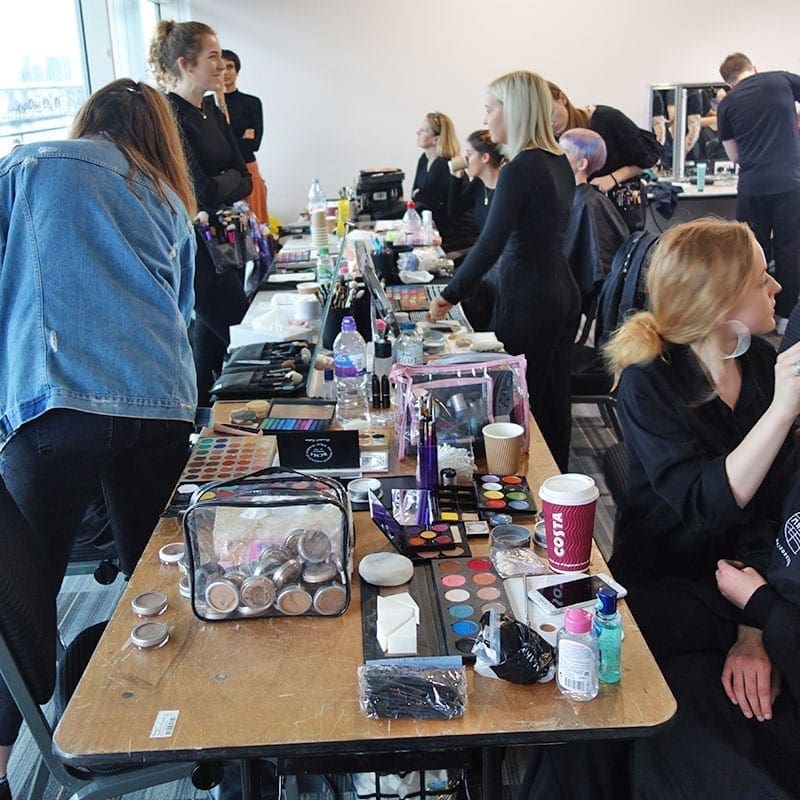 Make-up station ready for action
Then it all kicked off about 9.30. There were 15 models to make-up, each with strict time management based round their hair being coloured and then washed out. Some came to us with their hair ready, some half done but whatever state it was in we had to make sure we didn't disturb it! I did the complete make-up for 2 models, foundation and powder on a third.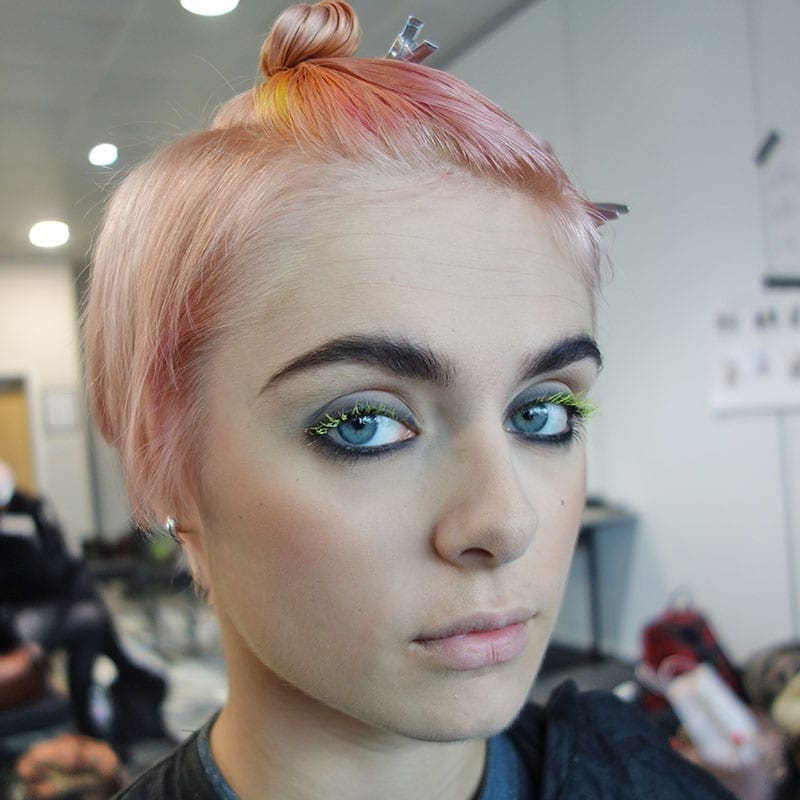 The purple and blue colour variance suited this model's pale colouring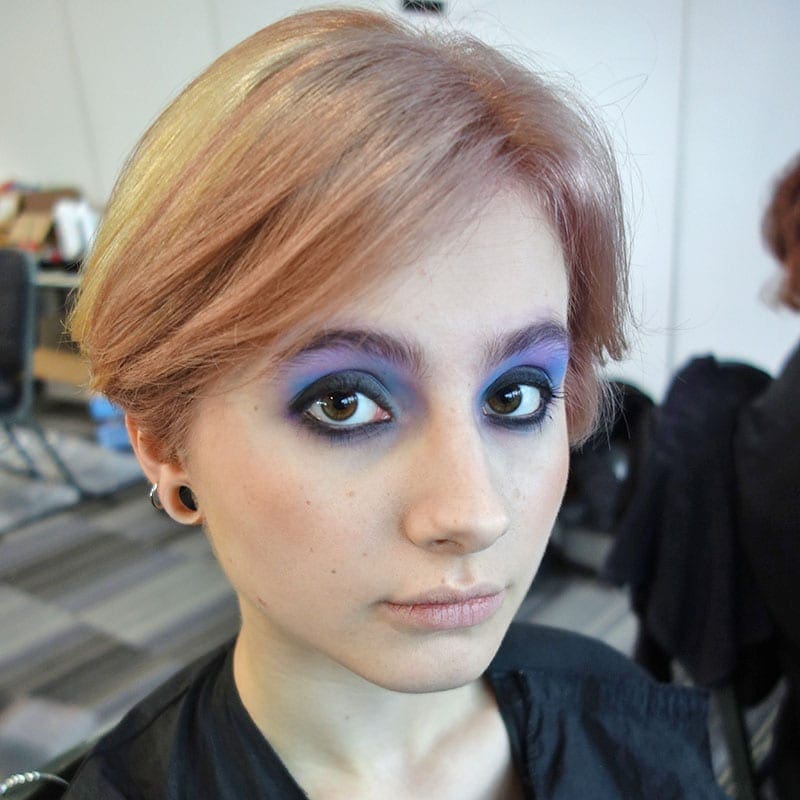 The 2 colourways on the Victorian look (blue and purple or orange and yellow) meant they would suit the models' different skin and hair tones. There were also 4-5 male presenters doing hair demos who wanted a light base to reduce the shine under the lights. So we simply applied foundation and powder.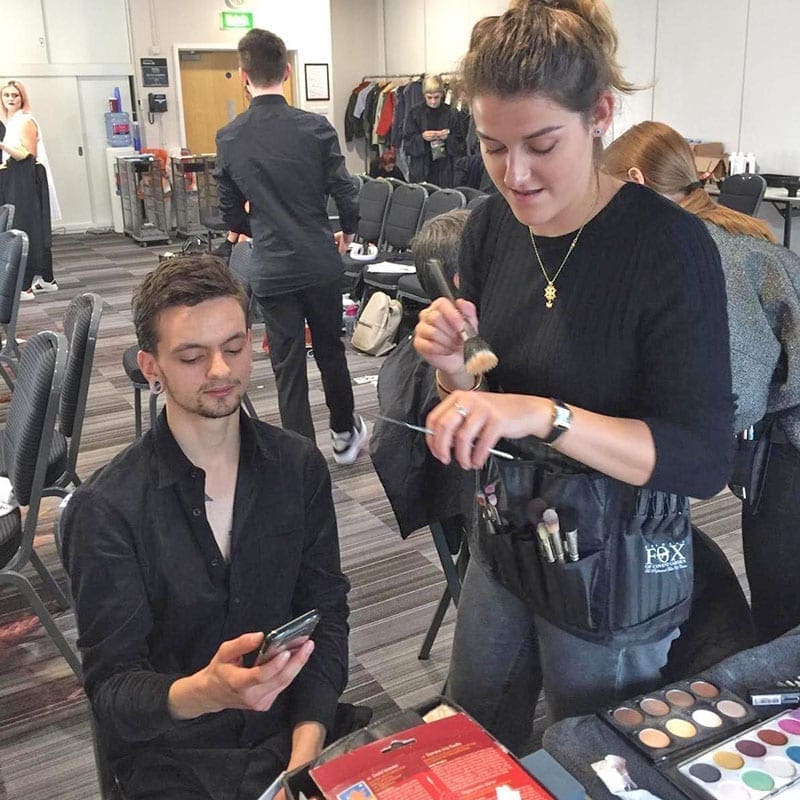 Juliette preparing one of the Mahogany presenters
Our tutor, James has worked at Salon International many times before so he had prepped us in class on how the day would go – especially the speed and attention to detail. As trainees, I think timing is one of our biggest learning curves. In class we have more time to get things right but in real life we have deadlines! Make-up work experience really helps you put your training to good use in real on-set situations.
Working with cream foundation
James wanted us to use just cream foundation exclusively during our make-up work experience at Salon International. I'd used cream a bit last year but I'm happier with liquid foundation because it's great for mixing colours and matching skin tone. But James is a big fan of cream foundation because you can get an even spread. I'm really keen to experiment with different products because I want to be ready for whatever the job throws at me. I'm working on a short film soon and I now think a cream base will be best to use on one of the older actresses who needs something more subtle on screen. Cream foundation is also ideal to cover up blemishes. You just go a bit heavier. Sometimes, a concealer might be needed if the foundation just won't cover something. But as James says, you've gone to all the trouble of colour matching with foundation so just use more of it to conceal any blemishes. You've convinced me about cream foundation James!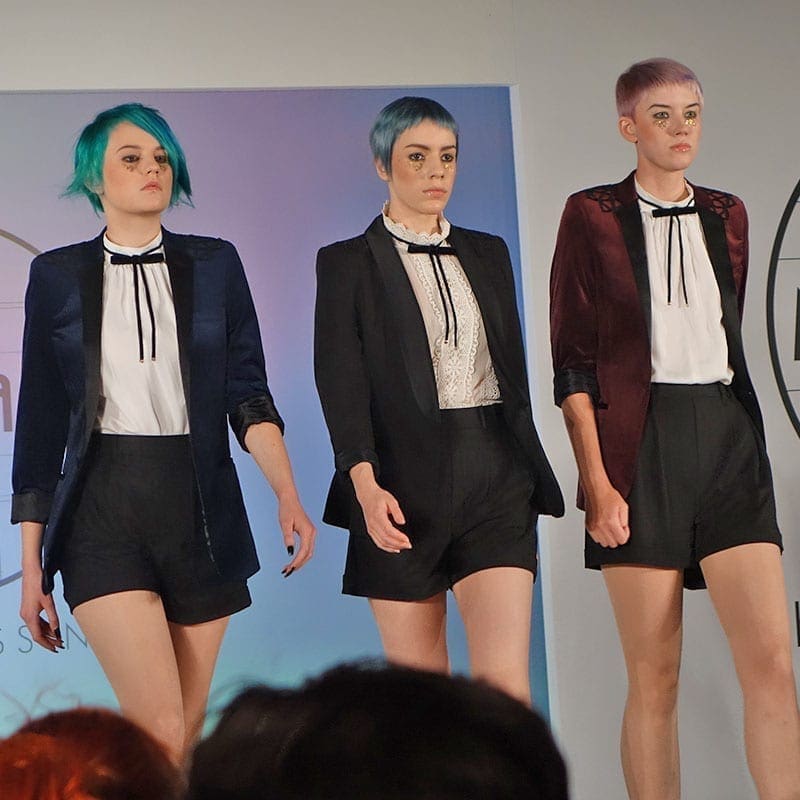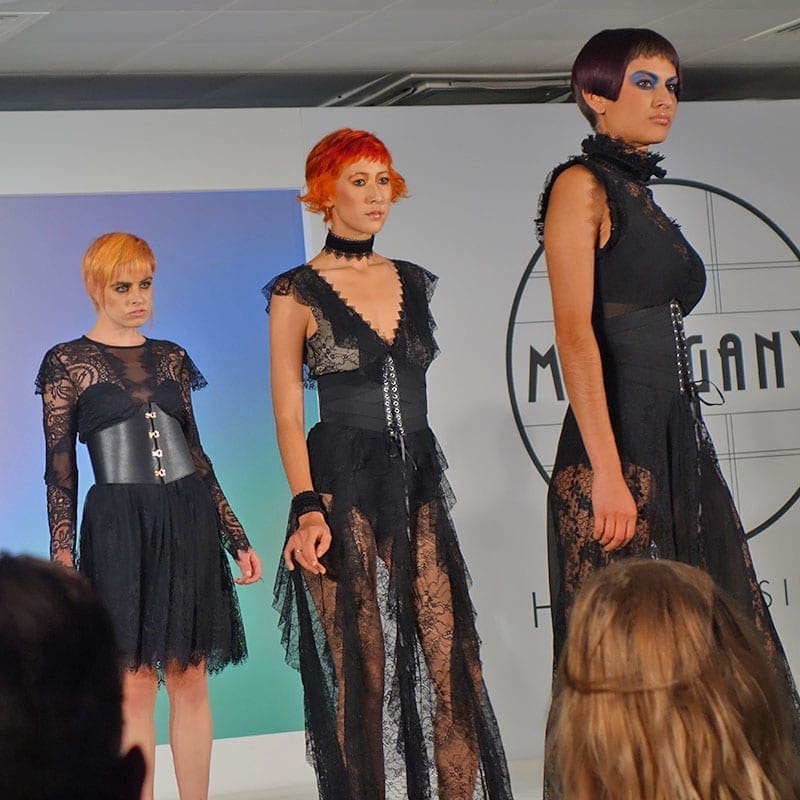 Final make-up checks for Mahogany Hairdressing Models
Final checks, such as removing smudges or touching up the powder, are really important which is another reason for getting our timing right. One model needed a bit more attention as her coloured eyelashes had smudged. It was a team effort to match the model's skin tone, remove the coloured lashes and reapply, including the foundation under her eyes.
Finally James did the lip gloss for each model – then off they went!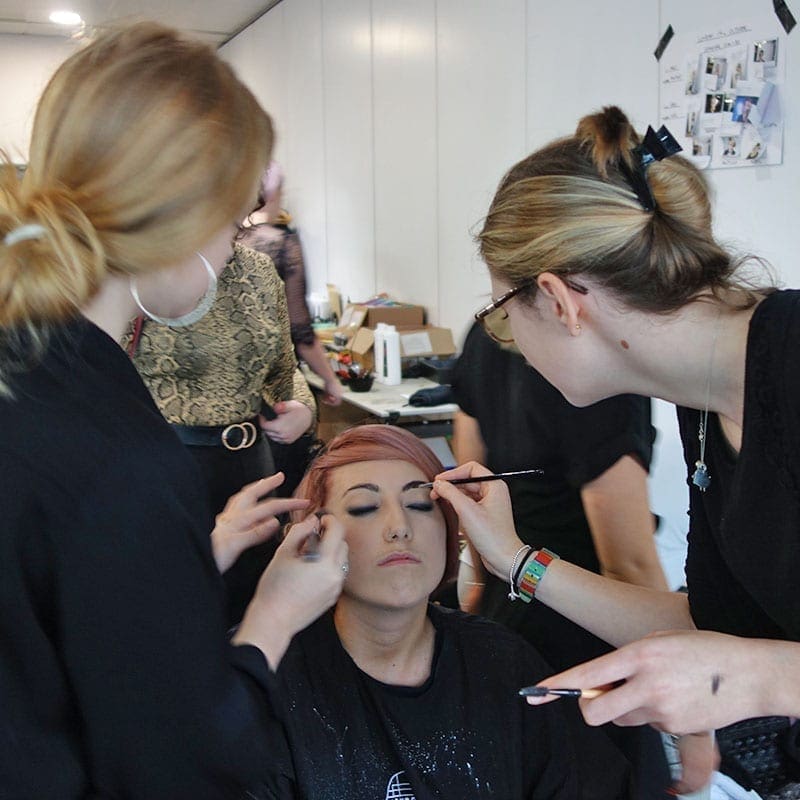 Hannah (r) working with Georgie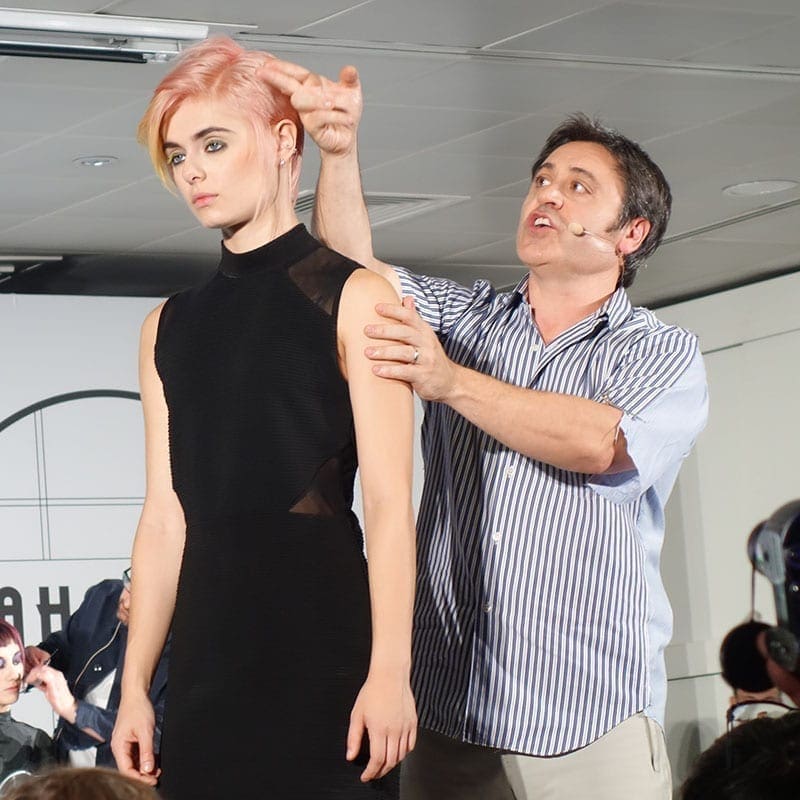 Mahogany's Antony Licata demonstrating
Hannah sums it up
This make-up work experience with Salon International was really useful – and great fun. I've done school proms and panto (oh yes I have!) before but this was my first real fashion job and I learnt a lot about hair as well as make-up. I spent a lot of time working on hair in my 1st year at Brushstroke and I'm looking forward to doing hairdressing later on in my 2nd year even more now. I loved the crazy hair at the show and, thanks to the guys at Mahogany, I now realise now how much you can do with short hair – so many different bobs and asymmetric cuts. Thank you James and everyone at Mahogany!
You can find Hannah on Instagram:
(This blog was originally posted on Warpaint Magazine)