Working as a makeup artist on a top TV drama is a dream job for many and we're delighted when our students achieve their ambitions. Take, for example, Alanna Sadler, the junior make-up artist on BBC2's MotherFatherSon, starring Richard Gere. Alanna trained at Brushstroke on our 2 Year Make-Up & Hair BTEC (2015-2017) since which time she's worked hard and progressed well.
From June through to December 2018, Alanna worked on all 8 episodes of MotherFatherSon. Here, she tells us more about the experience and what she learnt in her first role as a junior make-up artist on a top TV drama.
What did you do on MotherFatherSon?
"I had such a great time – that's what really sticks in my mind. There were some wonderful people and I learnt a huge amount."
It's clear from her account that working as a make-up artist on a top TV drama meant Alanna used a lot of her training from day one.
"As the junior, I worked on a number of featured SAs (supporting artists) and a few actors. Although you are assigned your artists on the first day, this scheduling can (and did) change. So I had to be organised and ready for anything…
"I worked across the 2 main character groups: business and homeless people so the range of make-up was very broad. For the first group, we had to create a 'business glam' look. These people were in the prime minister's and leader of the opposition's entourage as well as working in the news office. So the brief was 'well put together' rather than fashion runway."
Working on the artists in the homeless story lines naturally called for a different look altogether. "These characters needed a 'breakdown' style of make-up to make them look ill, tired and down-trodden. So, we were using more subtle, lighter effects such as shadows under the eyes, dry lips and some bruising. I also had fun creating tattoos – some were transfers but we were also drawing free-hand."
"Having prepared the artists, we then had ongoing maintenance and continuity checks to do on-set as well as actual changes – such as gradually lessening the 'breakdown' effect of the make-up on some of the characters as they started to look better."
The junior and trainee makeup artists are the 'glue' in the team
Alanna stresses the importance of a strong supportive team, and how much their performance depends upon the junior and trainee. "I learnt very quickly how much responsibility you have working as a junior make-up artist on a top TV drama. You have to be on it 100% – or the team suffers. "Whenever an AD (assistant director) knocked on the make-up truck door with "I want them out now…", I took this as a personal warning to speed up.
"As well as applying make-up to the SAs, I assisted the senior make-up artists so they could work as quickly as possible. It really helps them to have another pair of hands, anticipating what they need – such as just holding their palette or gluing something into place.
"Each character has their own personal make-up bag created at the start of filming so the first task was always to set up these bags for the artists. Other tasks included cleaning wigs, prepping pro bondo products and cleaning brushes. Generally keeping the make-up truck tidy was also important so that everything was always easy and quick to find."
Alanna was also in charge of continuity for MotherFatherSon: taking a photo of each artist, uploading to an app, adding notes then sharing on the WhatsApp group.
Trainee make-up artist on another top TV drama – Cleaning Up
Just before MotherFatherSon, Alanna worked as a trainee (dailies) make-up artist on another top TV drama – ITV's Cleaning Up, starring Sheridan Smith.
"This was my first real insight into how TV worked. As with MotherFatherSon, my work was really varied. Supervised by artist, Charlie Rogers, I did some of the face painting at the kids' party – great fun doing skeletons and princesses!
"Next, a fancy restaurant scene with sharp-suited SAs as wealthy diners and waiting staff. This involved make-up from scratch and then ongoing touch ups and continuity. Finally, I was involved in the office and cleaner scenes which were a mix of low-key and sharp suits again.
"Working on Cleaning Up taught me just how important hair can be in certain scenes – from the back it's very noticeable and has to be spot on correct."
Marella Shearer – a much-missed talented makeup artist
Brushstroke was very fortunate to have Marella Shearer as a tutor. A renowned make-up artist and designer, Marella sadly died in 2018. Any student wanting to be a make-up artist on a top TV drama would always benefit from her wisdom and skill. Alanna was one such student:
"Marella was a wonderful, very giving person – she passionately believed in new talent and giving opportunities to students. She gave me my first break in Cleaning Up – and from there lots of dailies work. Then she offered me the role of junior make-up artist on MotherFatherSon."
"As a tutor at Brushstroke, she took the trouble to understand what I wanted to achieve and then offered her own insight. Make-up, fashion, mask-making, hair – you name it she had so much skill and advice to help you improve, speed up or simply achieve a longer-lasting look…
"I have so much to thank Marella for and that includes recognising there's always something new to learn."
Advice for makeup students
So what advice does Alanna have for students wanting to work as a make-up artist on a top TV drama? "Basically, it's true that you get back what you put in – both as an individual and team member":
Brushstroke has given you the skills you need to start work immediately as a trainee make-up artist, so use them. As you start to work, you'll speed up and learn new ways of doing things. But, your basic training will always be in the background to help you with any job, however difficult or challenging.
Help was always at hand at Brushstroke and it always is on set. Don't struggle, just ask. Don't be a know-it all – accept all advice. Take it all on board and make it work for you (and the whole make-up team).
Always be on the look-out for where you can help or fix something. Be invaluable, especially when you are starting out as a trainee.
Be a people person. Apart from being a good make-up artist, it's how you behave that makes the difference. There's a great camaraderie in the make-up team and with the wider production crew. I know that I've already made some friends for life on set.
A practical piece of advice: buy good trainers because you're on your feet a long time! Also, have a pair of waterproof boots on standby, even if your work is mostly inside. There was a huge storm while we were in Sheffield with MotherFatherSon and the rain just kept on seeping in so we were paddling around in water all day.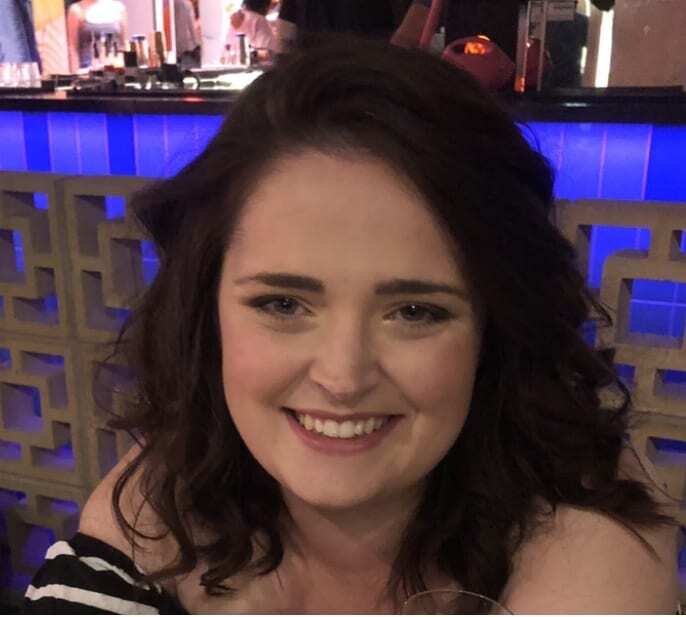 Thank you Alanna – keep in touch with us at Brushstroke. We know that MotherFatherSon has led into more TV drama work for you (this time Canadian). We look forward to hearing all about it. In the meantime, you can follow Alanna on Instagram.
The main picture shows from left to right: Dani Haigh (make-up artist and past Brushstroke student), Harriet Thompson (make-up designer), Shreya Patel (make-up supervisor) and Alanna Sadler (junior make-up artist).