Ben Hardy – The make-up artist helps me get in character
Actor Ben Hardy says "the makeup artist helps me get in character" but not just because they make him look the part he's about to play. The makeup team also helps him prepare and get in the mood for performing.
The Eastenders, X-Men and Woman in White Actor on the Magic of the Make-Up Trailer
When he says "the make-up artist helps me get in character", Ben means it literally. They make him look the part he's about to play and, it seems, we also help him prepare and get in the mood for performing.
You hear a lot about the pain of actors being in the make-up chair for hours on end getting airbrushed, painted and having complicated prosthetics applied. But it's not all bad according to Ben. He's experienced both the 15 minute whistle-stop make-up on Eastenders as well as a 2 hour tattoo-creating experience on the set of X-Men.
The Comfort and Chatter of the Make-Up Chair
The comfort and chatter of the make-up chair is what we focus on at Brushstroke – encouraging our students to think about being sociable and welcoming as well as skilled artists. Our tutors talk about gauging the mood to create the right atmosphere in make-up. Then they can do their work as make-up artists and the actors can concentrate on getting ready for the camera.
Ben Hardy readily admits he's a talker even first thing in the morning ("helps me get my mouth working"). He enjoys the time he spends in the make-up chair and the rapport that builds up, even on a short production. "A catch up and a coffee first thing in the morning and maybe a glass of something stronger with them at the end of the day!"
This sense of sociability in make-up chimes with something we read about Rosie Marcel who plays surgeon Jac Naylor in BBC1's Holby City. She says: "…we're all in make up together which is really fun as we often don't get to see each other filming on different wards. Make up and lunchtime is a time for us all to catch up and see how we all are and things like that."
As Ben noted, however, some actors prefer to conserve their energy for when the camera is rolling. Renowned film make-up artist, Tina Earnshaw, has worked with many different actors and knows how important it is to create a calming environment for them all. She always goes out of her way to ensure the make-up station is clean and inviting on the film set. Her advice: "The make-up room is where the actors can relax so encourage a lovely atmosphere. Learn when to chat with them and when to keep quiet. Be calm and patient and you'll get the best out of everyone."
For the first-time actor, being on-set can be daunting the make-up trailer as a place of sanctuary is really important. (Because make-up artists have to know so much about the production schedule, they're usually a good information point too!)
15 Minutes or 5 Hours in the Make-Up Chairy
Two things determine whether a performer spends 15 minutes or 5 hours in the make-up chair: the kind of make-up involved and the type of production. Prosthetics and special effects make-up are likely to take longer with some actors spending hours in the chair, going through the process of having intricate prosthetics applied.
Ben Hardy played Angel in X-Men: Apocalypse in which he had some impressive 'tattoos' drawn on his face. "It took 2 hours at first but the make-up artists very quickly reduced the time so, by the end, I was spending 1.5 hours in the chair."
Time is always a luxury but on some productions the schedule is very short. For example, when Ben played Peter Beale in Eastenders, he would spend around 15 minutes in the chair. The make-up room on a soap has to work like an efficient production line to get through the queue of actors waiting for attention. Paula Cahill (Brushstroke BTEC Qualification Manager and tutor) is a regular make-up artist on this much-loved BBC drama. She comments about the "… energy behind the scenes with the actors getting ready to perform and the backstage crew all working to a set timescale."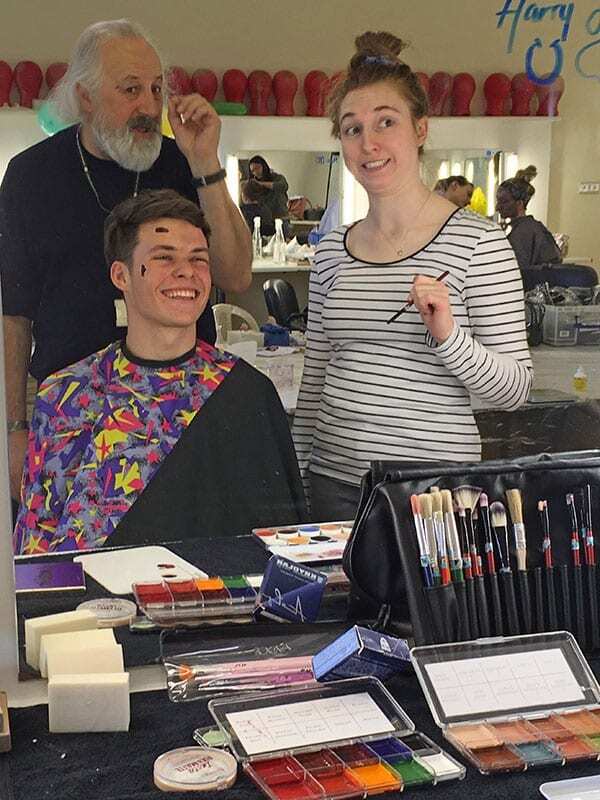 9 Month student, Harriet Wilks and tutor Barney Nikolic putting Daniel Beechey at ease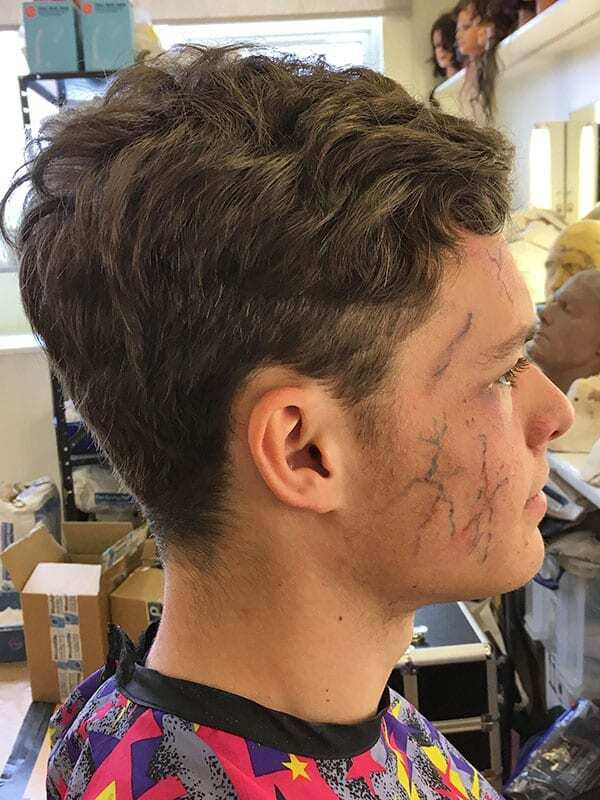 Daniel starting to look like a vampire
It's a Collaboration between Actor and Make-Up Artist
As Ben said, it's a collaboration between actor and make-up artist – "the make-up artist helps me get in character". From 'barely there' make-up to wigs, tattoos, false noses and full blown prosthetics, the make-up artist's skill means the idea of a character can become more of a reality.
As make-up artists, we're part of a team that creates the most enjoyable and affecting productions with people at the very heart. We have to get up close and personal and, understandably, our clients can get a bit restless with all the patting and blending that goes on. We must always be thinking about the person sitting in the make-up chair. So, the best make-up artists are sociable, welcoming and understanding.
"I've got tremendous respect for all behind-the-scenes people, their creativity and hard work," said Ben. "It's the make-up trailer that's the fun place to be though!"
Ben's career is going really well and we wish him very good luck for the future. We also look forward to more Brushstroke make-up artists working with him and appearing on the same credit list. (The BBC's Woman in White is on Sundays at 9pm.)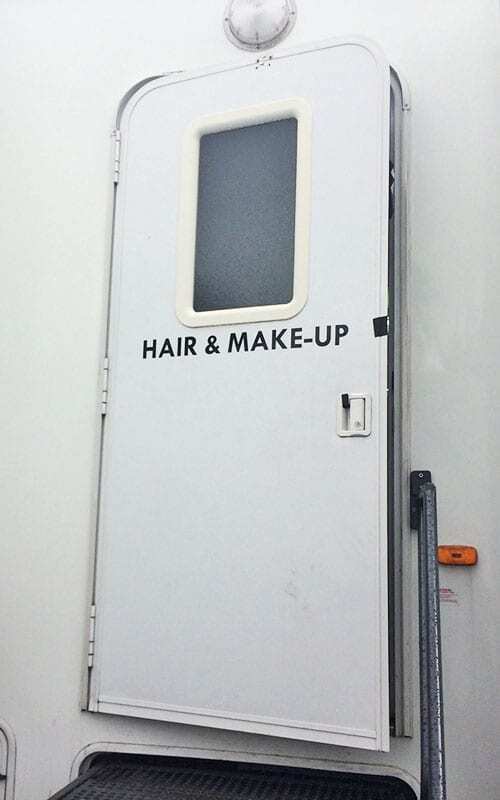 The famous make-up trailer