Tina Earnshaw delivered an inspiring film make-up demonstration to our
2 Year BTEC
and 9 Month ITEC course students recently, as part of our new
Masterstroke
series. A
renowned film make-up designer
(and great friend of Brushstroke), Tina recreated her look for the character Rose in the blockbuster movie,
Titanic.
Apart from an excellent example of period make-up, Tina's demonstration helped our students understand a number of important aspects of working in the
film industry
.
Tina's career as a make-up designer purely in film spans more than 2 decades during which time she has worked with many leading actors – Gwyneth Paltrow, Kate Winslet, Matt Damon, Mark Wahlberg, to name but a few. She has been responsible for the make-up on the last 7 Ridley Scott films and, most recently, Mama Mia 2 (having designed the first one too).
A film make-up demonstration is a must-see event in anyone's calendar. When a make-up artist of Tina Earnshaw's calibre offers to recreate – from start to finish – the look of one of film's most iconic characters, Rose from Titanic (played by Kate Winslet in the film), you make sure to reserve a seat.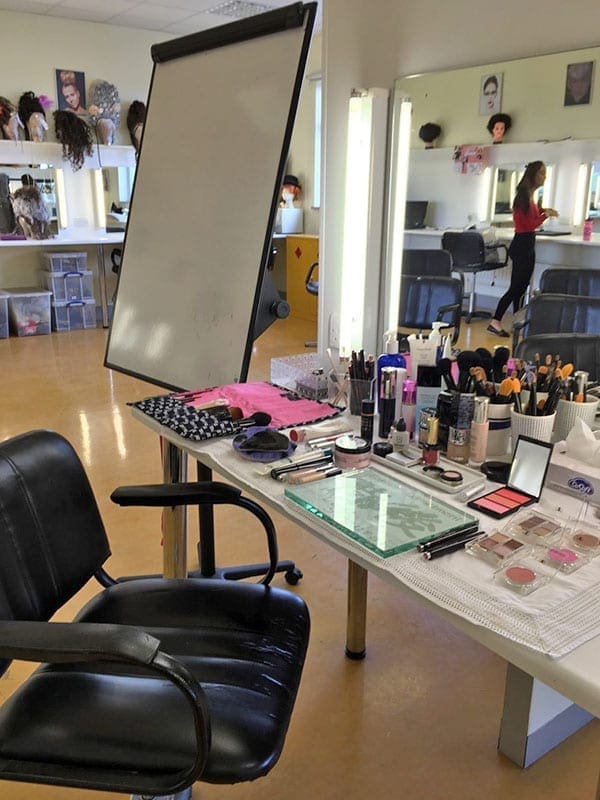 Clean, welcoming make-up station
"Choose your Wetsuit"
Titanic was filmed in Mexico and Tina took a team of 10 young people with her. "Choose your wetsuit" might seem an unusual instruction for a make-up artist but this piece of kit was vital for a team who spent 50% of their time working in the water with the cast and crew. The team had trays slung round their neck holding all their make-up kit so they were always ready and had everything immediately to hand.
Luckily Brushstroke's training facilities provided a drier and much more pleasant environment for Tina to recreate Rose…Tina set about recreating the perfect porcelain appearance of Rose Dewitt Bukater with Brushstroke student, Georgie King as her model. The film is set in 1912 (towards the end of the Edwardian period) and, as Tina pointed out, wealthy ladies of the time had access to the basics we use today: foundation, mascara, blusher and lipstick. This is how she used them.
Spend Time on your Foundation
Tina kicked off her film make-up demonstration with the basics. "Spend time on your foundation", she advises because it's the general basis and structure of your beauty period make-up ("your little canvas"). Get this initial stage right and the rest of your work will be so much easier and more successful. From studio lighting to extreme weather conditions, make-up has to work hard to look good. The more time you spend on your foundation, therefore, the easier it is to maintain the quality.
Tina recommends using a serum under the foundation which she mixes to get the colour just right. Then using a combination of beauty blenders ("can't do without them"), patting with her fingers (hand sanitiser first) and a foundation brush she works it in well.
Next, pale pink concealer across the cheek bones – "always paler across the cheekbones because it's pretty and flattering", says Tina. For the eyelids, Tina uses a non-greasy product so lines don't appear when the eye shadow goes on top. She advises something that allows the eye shadow to glide on perfectly but also lets the depth of colour show through.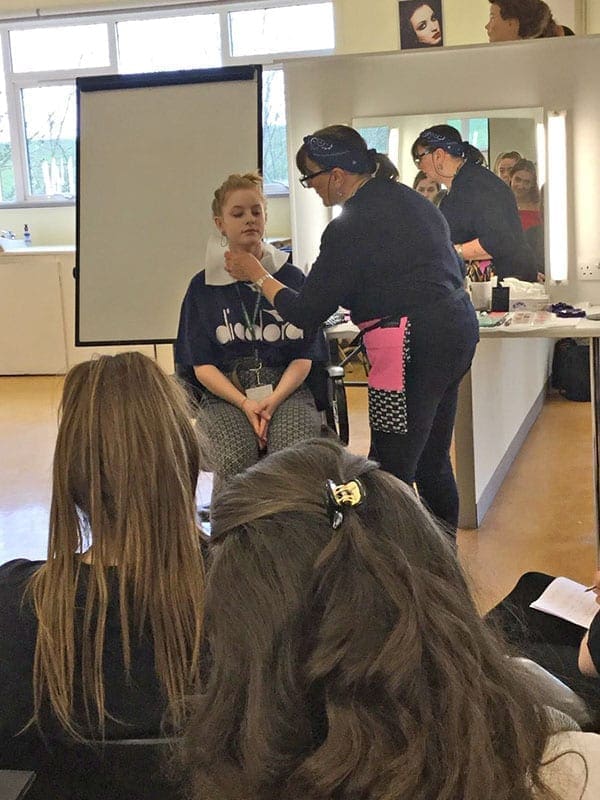 Spend time on your foundation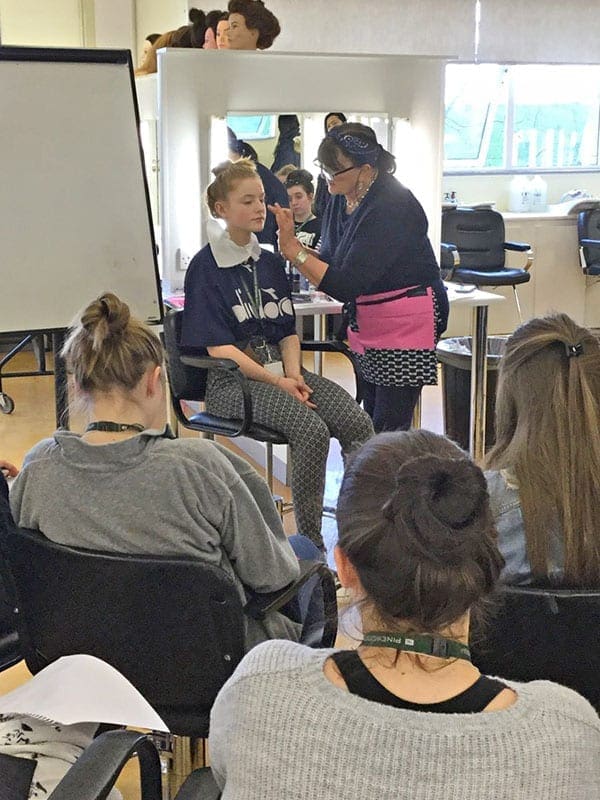 Pretty and flattering pale pink concealer across the cheekbones
Powder well
Tina applies a cream cheek colour onto the 'apples' of Georgia's cheeks – a little flush in keeping with the period. Then, selecting her brushes carefully (she is an artist after all), she makes sure to powder well (pale pink in this case) to set it all. Under the eyes, she recommends brushing on a generous amount of power so that if any eyeshadow drops you can flick it off easily. Then you simply go over it with a damp sponge if you don't want the powdery look.
Powder well to set it all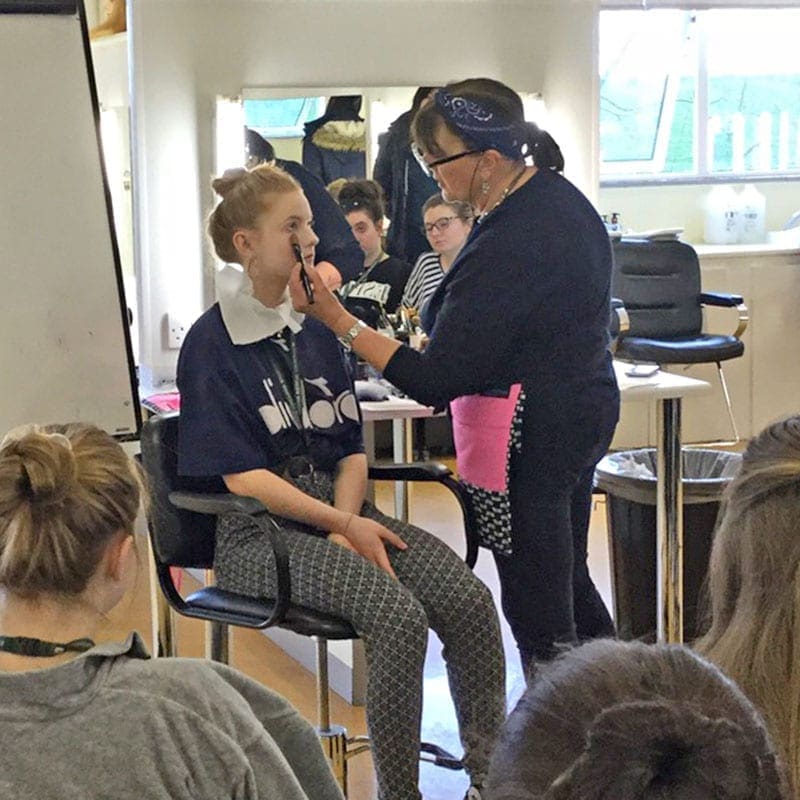 A dollop of powder to catch any falling eyeshadow
Eyes are all about the Blending
In the next stage of her film make-up demonstration, Tina spent a lot of time on Georgia's eyes getting them right, getting them even. "Eyes are all about the blending", she says. She goes over Georgia's lids with a pale pink eyeshadow, then a little bit of shading – a tiny bit in the socket – just enough to add some depth, a bit of "an illusion" Tina calls it. Then she flicks off the powder she put on earlier together with any falling eye shadow.
Next, some fine eye-liner, so fine that it doesn't look like eyeliner – dark brown as Georgie is so fair. Tina prefers transformer or cake for her eyeliner because they don't run and she can make any corrections quickly. Here, she also used a tiny sable eyeliner brush to finish off, holding up Georgie's eyebrow to get in really close to the lashes.
Admiring the length of Georgie's lovely long eye lashes, Tina used very little mascara – nothing at all on the bottom lashes.
Finally, eyebrows. Once again, thinking of the film environment in which she works, Tina shares her preference for powder (which she wets) rather than crayons because they can melt in warm temperatures.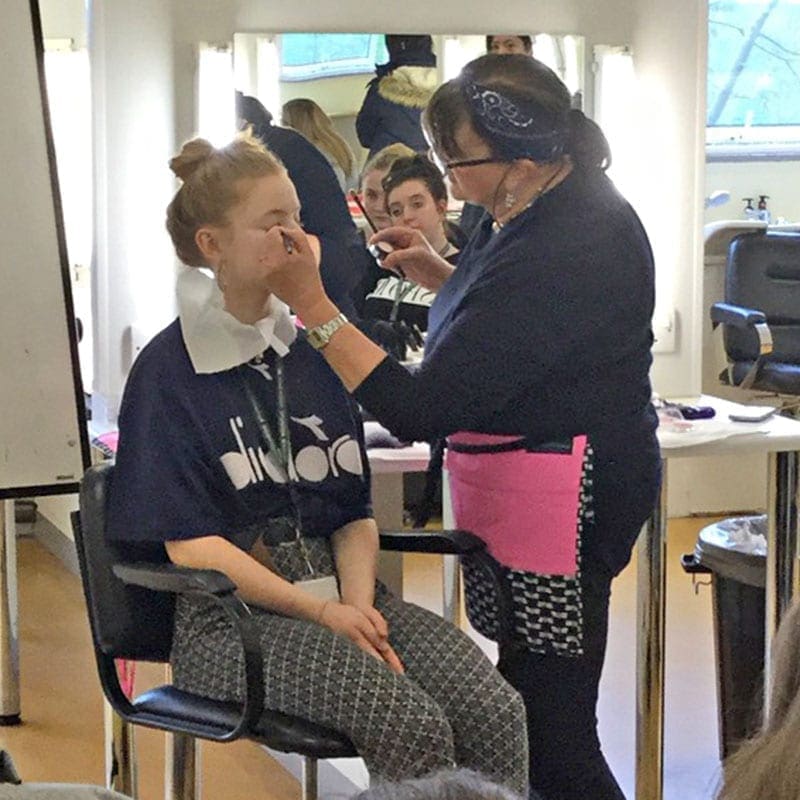 The smallest amount of eyeshadow and little bit of shading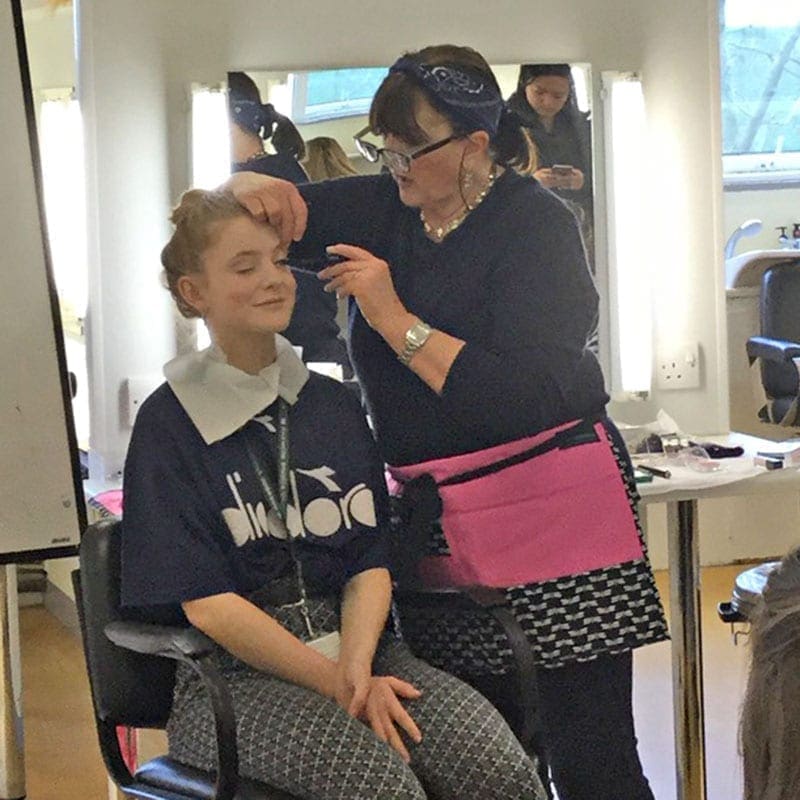 Almost-not-there eyeliner, holding the eyebrow up to get in really close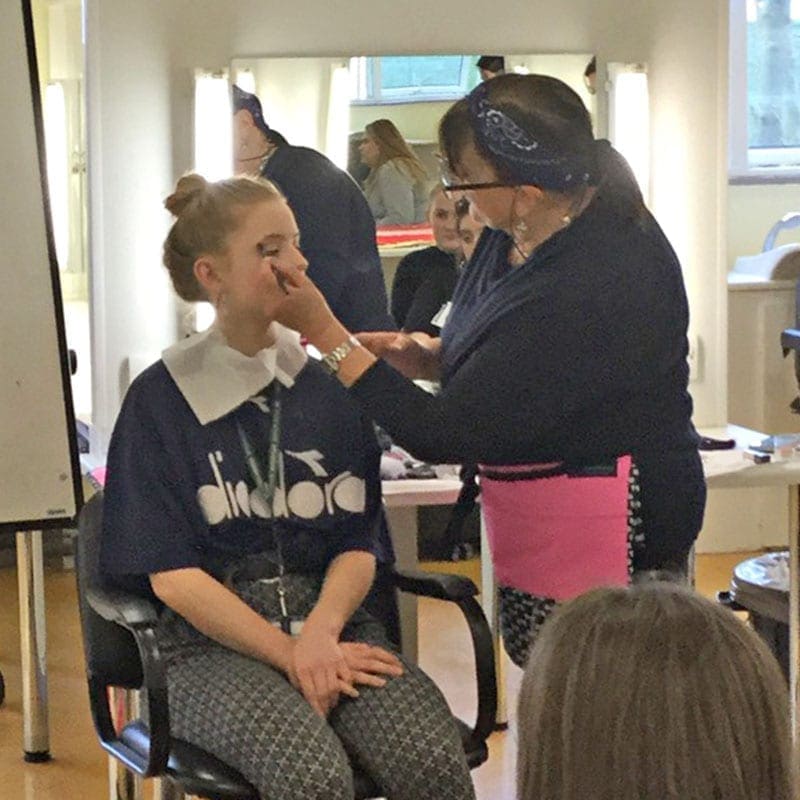 Temperature-friendly eyebrow treatment
Finishing touches
And so to the finishing touches. Tina wiped away any remaining foundation from Georgie's mouth before using a natural/nude colour pencil to etch round the edges of her lips. For Tina, this ensure she achieves a good, overall shape. Finally some colour – tinted berry (Tina's mix of berry and plum).
After applying a little more blush, Georgie's look as Rose from Titanic was complete.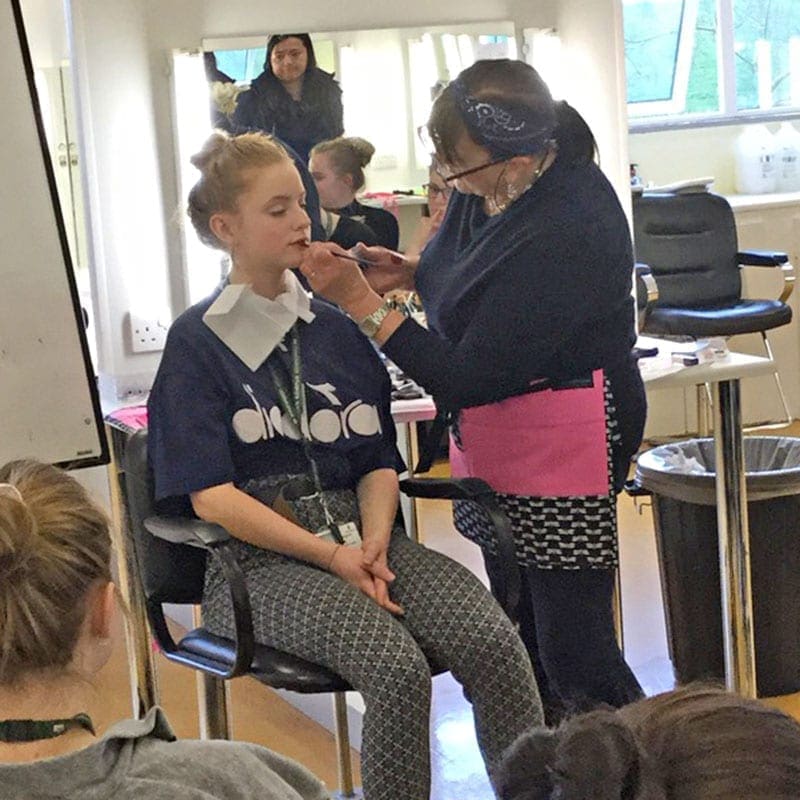 Pencil etch round the edges of the mouth for a better shape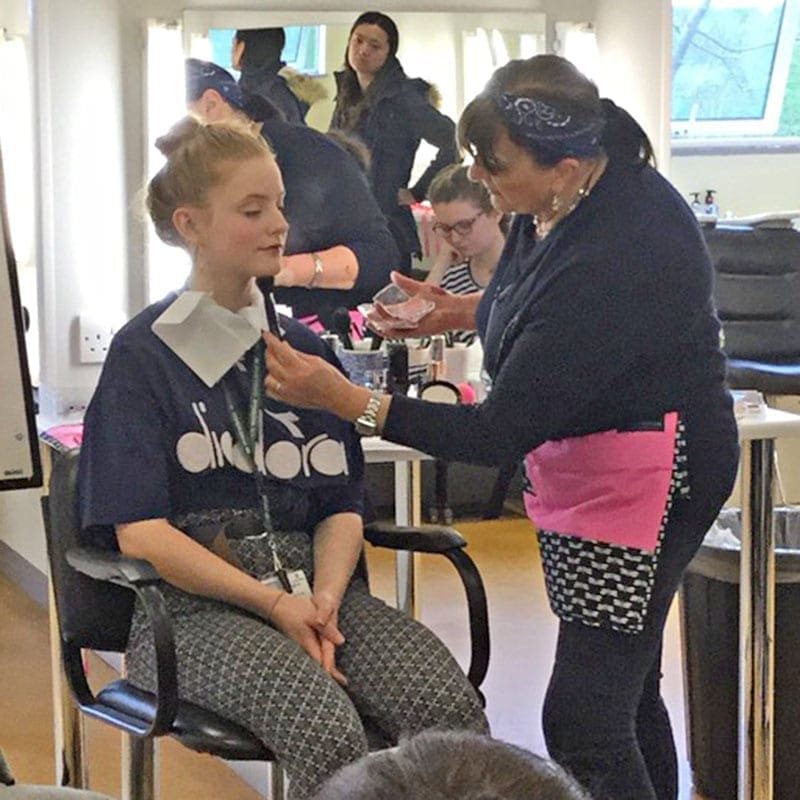 Finishing touches to Rose's Titanic make-up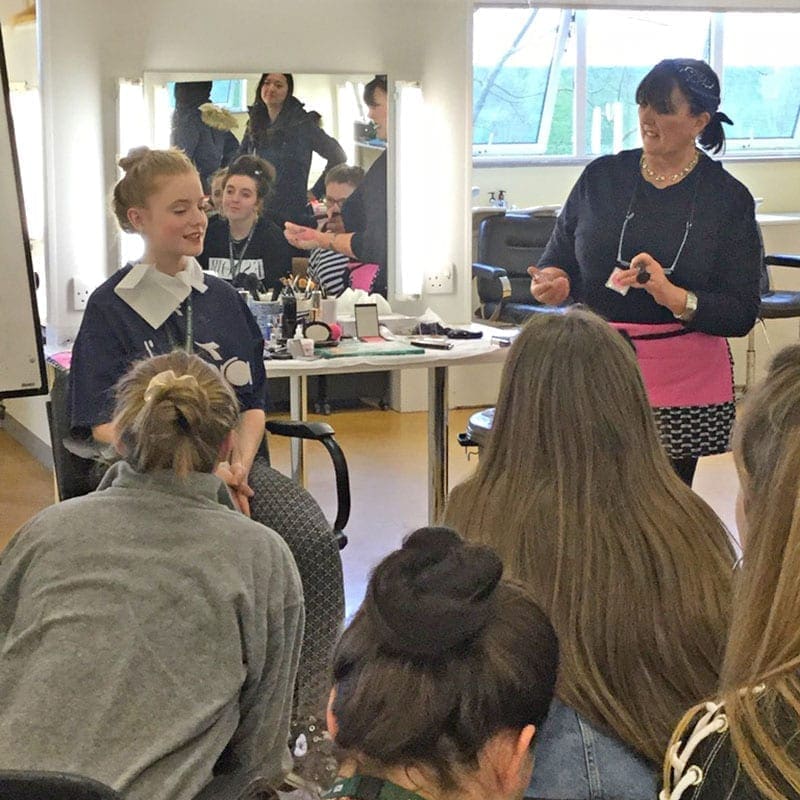 It's a wrap for Tina Earnshaw's film make-up demonstration
There's Lots of Film Make-Up Work out there 
Throughout this Masterstroke film make-up demonstration, Tina regularly talked about what fun she has had in her career and how great it is to be a make-up artist, particularly now. Asked what it's like working as a freelancer, she said that being bold and a little bit pushy is the only way to get known. "There's lots of film make-up work out there so go and find it. Where are the big films being made and who do you need to talk to – who's running the crowd scenes, for example?"
"If you're keen, you'll get there. Be pushy, in a nice way, otherwise they won't know you're there."
Then once on set your skills, behaviour and personality must kick in, together with networking like mad. Getting acknowledged for doing a great job is massively important. Tina got the job of make-up designer for Titanic on merit – and because of Kate Winslet. Having worked with her on Kenneth Branagh's Hamlet, Kate recommended Tina to James Cameron, the director of Titanic.
Tina spoke a lot about luck and being in the right place at the right time but you just know that her easy manner and great skills are a big clue to Tina's success…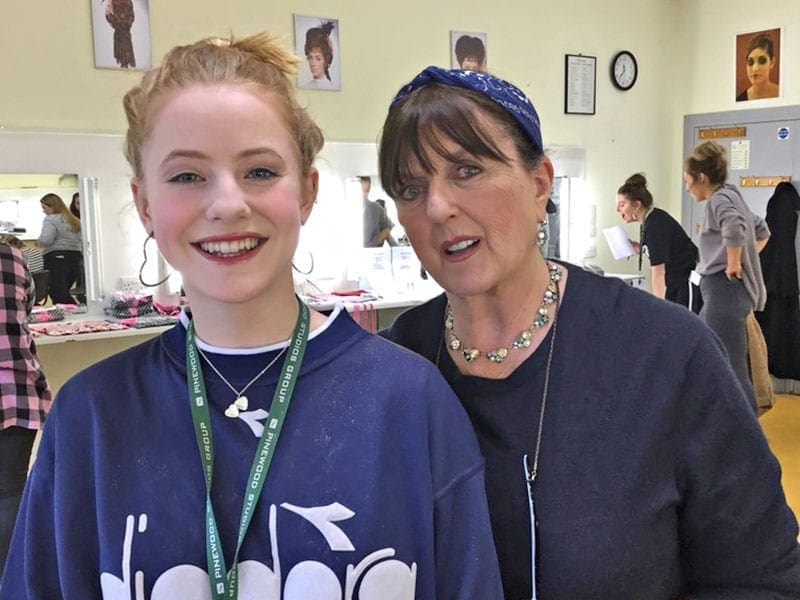 Georgia aka 'Rose' and her make-up artist, Tina!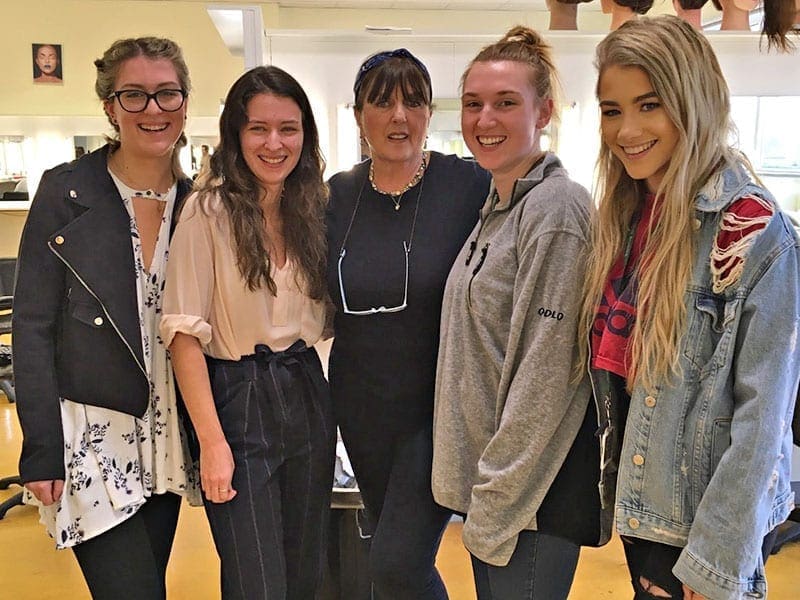 Tina and Brushstroke students
Some of the Products that Tina used
Whilst not wishing to endorse any brands, here are some of the products that Tina used:
Boots No 7 Protect & Perfect Serum and Boots No 7 Concealer
Laura Mercier Eye Basics
Giorgio Armani Eyes To Kill Mascara
(Masterstroke is our series of make-up and hair skill-sharing with key figures in the industry. Keep a watch out for the next one.)