Crowd Scene Makeup
Crowd scenes in films are legendary and they can involve hundreds of people! There are war and battle scenes (Ben Hur, Lawrence of Arabia,Gladiator, Dunkirk and Hunger Games), crowds of spectators (Chariots of Fire), general gatherings in musicals (Mamma Mia) and villages (ITV's Midsomer Murders!). Little wonder crowd scene make-up often has a department in its own right on IMDb entries.
Crowd Makeup – The Bigger Picture
An online search for crowd scenes in films will tell you how excited (and grumpy) people get about them. Indeed, they are massively important. They make a production more powerful and exciting but also more believable. So getting everyone ready (to fight, sing, run, march or eat cream teas in a marquee) involves a lot of planning for the person in charge of crowd scene make-up.
It's an exhilarating job working in the crowd room – hectic and noisy, it requires a lot of concentration and the ability to multi-task. Nothing like it, say the professionals. Brushstroke tutor and experienced TV drama make-up artist, Juliette Tomes, was the crowd room supervisor on ITV's Mr Selfridge. She gave us an insight into her role which began some weeks before the shooting started. It won't surprise you to learn that it demanded a huge amount of energy and planning on Juliette's part…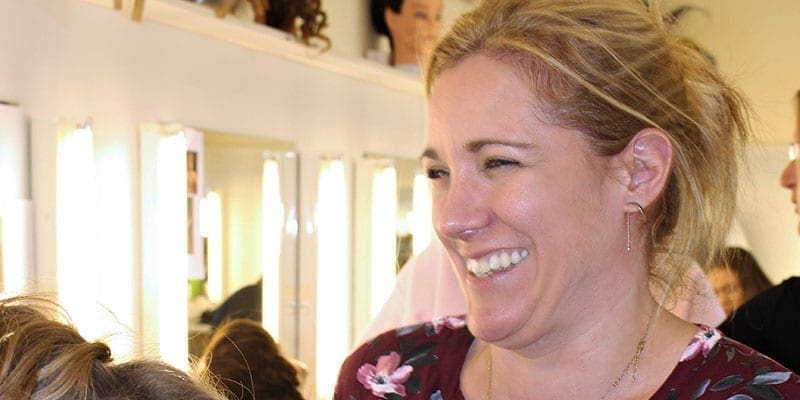 Make-up artist, Juliette Tomes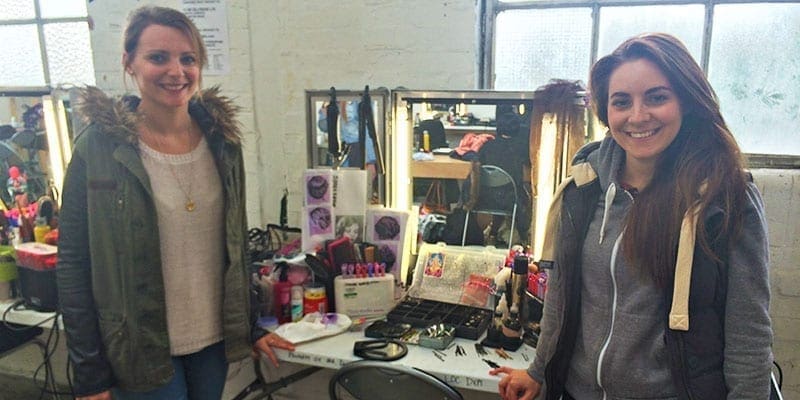 2 Year BTEC Diploma students, Sammi Lammond and Dani Haigh in the Mr Selfridge crowd room
Crowd room make-up is like a production line
For Mr Selfridge, Juliette's team comprised a core of 4 make-up and hair artists, plus trainees and 10 dailies she called upon when she needed their help. The main team would concentrate upon hair then the make-up was done by the trainees. In addition, the trainees were Juliette's constant helping hand, always alert and making sure they knew where things were – instantly. Some of the team included past Brushstroke students: trainees Dani Haigh, Sammi Lammond and Danielle Hawkes, and Charlotte Clark on dailies.
"There were days when we had around 1.5 hours to get through 55 people and we worked it just like a production line" said Juliette. "Once shooting begins we're on hand, watching the monitor, ready to touch up hair and make-up as required. The team has to do checks on the SAs in between takes so we're constantly on the lookout for strands of hair and stray bits of food in beards!"
Juliette and her crowd scene make-up team worked in shifts of 2 at a time throughout the day, to avoid having too many people on set. They have designated areas where they wait quietly to do their final checks, just before the camera rolls.
Crowd room continuity
For Juliette, continuity is the biggest part of a make-up artist's work. It means being a great organiser with an attention to detail to ensure the viewer doesn't see any discrepancy in the continuity of look frame-by-frame, scene-by-scene.
Take for example story vs shooting order. Rather than shooting in sequence, scenes are grouped together, such as by location. This makes best use of everyone's schedules – particularly the actors' – and minimises travel time. As crowd room supervisor, Juliette spends time breaking down the script into story order and writing notes: "There could be a real time difference between scenes because even different seasons can affect crowd scene make-up. A red nose in winter, slightly sticky-looking skin in summer…"
Once the supervisor and designer have agreed on the make-up for each SA, photos are taken of every scene to ensure the make-up artists match hair, wigs, skin tone, etc. These photos are like a manual for the production going forward and, together with good notes, they minimise discrepancies as well as speed up the process.
It's the job of the trainee to manage the paperwork and, according to Dani Haigh, doing so on Mr Selfridge helped her understand the importance of continuity:
"We'd take pictures, set them out the following day and see immediately how helpful they were in making sure every artist could quickly get the exact same look day after day."
The Brushstroke tutors spend time helping their students understand the importance of continuity across all their work – not just crowd scene make-up. They teach the basic strategy and process including the art of hand-eye co-ordination. They also help the students develop their own style of recording important information alongside their photos, such as the kind of products used according to skin type.
Blood and dirt or hair pins and rollers!
Having established the period she was working on (around 1919) Juliette then researched the range of make-up needed to reflect the look of the time. In the case of Mr Selfridge, the supporting artists (SAs) appeared in the store, at parties, home from the war and as labourers working outside. So the crowd scene make-up called for a real mix of glamour, day-to-day, casualty and outdoor, weathered look – or as Juliette put it "blood and dirt or hair pins and rollers"!
Juliette's next task was to see what each supporting SA looked like: "You have to prep for things like length of hair. I was in regular contact with the make-up designer, Marella Shearer (another Brushstroke tutor), checking with her who looked OK for which scene, who needed to cut their hair or remove a beard before shooting.
"It's so important to be as ready as possible and make life easier for yourself because when the day comes, it's full on. And you just know something will take you by surprise like having to remove some stubbon novelty nails from an SA because they weren't an accessory during this period!"
Finally, location has a bearing on crowd scene make-up. If a scene is shot outside, for example, the state of the hair may need to reflect windy or wet weather conditions. Whatever the weather, though, you just have to make everybody look as perfect as possible.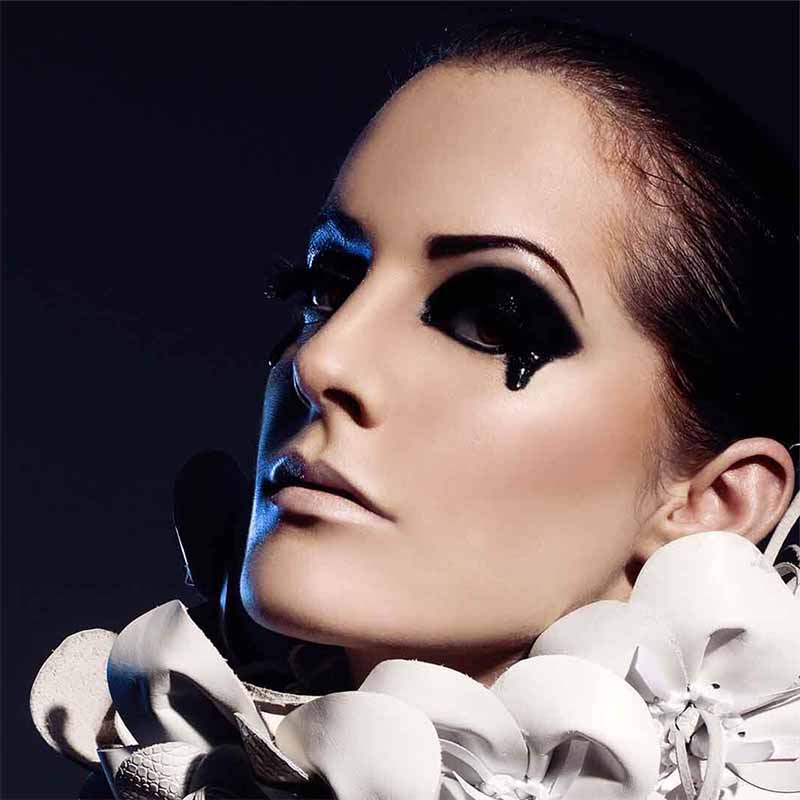 2 Year
Makeup & Hair Course
BTEC, Level 3 Diploma
Our most thorough training to prepare you for a career as an artist in TV, film, stage and fashion.
Planning before, precision timing on the day
"When big crowd rooms work, it's amazing. Nothing feels real until the crowd of SAs are ready, wearing their costumes with make-up and hair in place. Then the excitement of the production starts to build!" But not without excellent planning by make-up supervisors like Juliette Tomes and precision timing by the whole team on every day of shooting.