HNC (Higher National Certificate) Level 4: Performing Arts (Technical Arts) Optional- can only be studied alongside the
2-Year Make up & Hair BTEC
Level 3 Diploma Course
Showing prospective students around (including school holidays) for enrolment in 2024 & 2025. The 2-year BTEC Make up & Hair Course starts 23 September 2024 at Elstree Studios & 30 September 2024 at Longcross Studios.
If you haven't achieved GCSE grade 4 or above in English and/or Maths, you can still enrol on the 2-year BTEC Make-up & Hair Course. Contact us to find out more. For availability or to book a visit call +44 (0) 1344 635 522 or email us on [email protected]
What is the HNC Qualification Level 4 Higher National Certificate in Performing Arts (Technical Arts)?
For those wishing to study the HNC Qualification, you would need to enrol by the end of your first term on the 2-year BTEC Course.
The 2-year BTEC Diploma Level 3 course will give you the knowledge, practical experience, and confidence to pursue a career in the make-up industry as a professional make-up artist for Theatre, Fashion, Television and Film.
If you decide to work towards the HNC Qualification during the 2-Year BTEC Course this will further the technical skills required to work as a specialist hair and makeup artist, a special effects makeup artist, or a wig or makeup designer.
Full time practical training within a film studio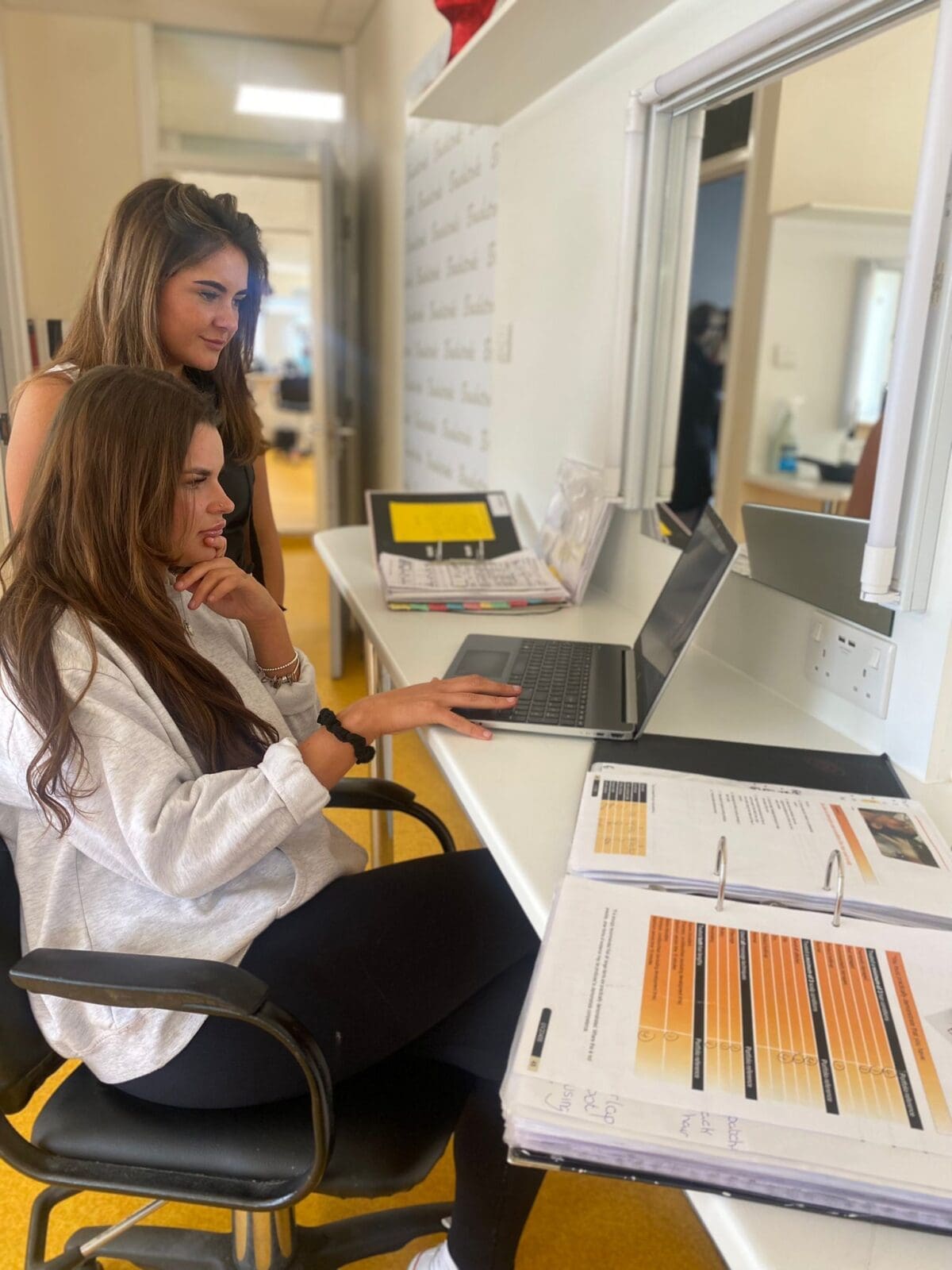 Entry Requirements
Students must be working towards their BTEC Level 3 Qualification to be able to enrol on the Level 4 HNC.
During the first term students who have expressed an interest in the HNC Level 4 will have a tutorial where you will need to show a willingness to be committed to carrying out further in-depth research in design, hair and make-up, production arts, production theory, industry knowledge, and business skills.
Subjects covered on the 2-year BTEC Level 3 Diploma course are second to none and tailored to industry requirements. The HNC Qualification is optional although students need to be very motivated to be able to produce extra in-depth research in their own time as well as extra study days in addition to our 2-Year BTEC Course hours. If you haven't got the motivation or academic ability to do extra research, then we suggest you do not enrol on the HNC Qualification and continue working towards the 2-year BTEC Level 3 Diploma Course as this will still provide you with proper training and is a 100% industry relevant course. We have a very high success rate with our graduates. See students' achievements.
Module/ Unit Information
The 2-Year BTEC Diploma Course content is regularly reviewed to reflect changes in the industry. For those who wish to successfully complete the HNC (alongside their 2-Year BTEC), they will require the accumulation of 120 credits from the modules studied. HNC modules include:
| Unit | Name of Unit | Credits |
| --- | --- | --- |
| Unit 1 | The Performing Arts Industry | 15 credits |
| Unit 2 | Professional Development | 15 credits |
| Unit 21 | Production Communication | 15 credits |
| Unit 10 | Investigation of Specialism | 15 credits |
| Unit 25 | SFX 1 | 15 credits |
| Unit 28 | Hair and Makeup Application | 15 credits |
| Unit 30 | Fashion and Fashion Editorial Hair and Makeup | 15 credits |
| Unit 31 | Period Hair and Makeup | 15 credits |
Educational Aims of the Programme
If you decided to take the HNC Level 4 programme within the 2-Year BTEC Level 3 Diploma Course, this HNC programme provides students with further integrated knowledge of Hair and Make-up within the TV, Film, Theatre and Fashion Industries.
The broad aims of the programme are as follows:
To provide a higher education foundation for a range of creative hair and makeup artists within the various sectors of the industry.
To provide specialist studies in areas of Hair and Makeup design in which
students intend to seek their own employment.
To provide flexibility, up-to-date knowledge, techniques and skills as well as motivation as a basis for future studies and career development.
Special emphasis is placed on the individual to develop a range of skills and techniques, personal qualities and attitudes essential for successful performance in professional working life.
During your 2-year course, you will be taught by active makeup artists within the industry and assessors whose expertise and knowledge are matched to the content of the modules on the HNC Level 4 course.
Self Study Time – Out of Course Hours
Your self-study will involve reading, working on individual and group projects, undertaking research in the library, preparing coursework assignments and preparing for assessments.
Assessment
Assessment methods include a range of coursework such as essays, reports and
portfolios, overall performance and your final project.

Assessment is continuous throughout the academic year and is in the form of photographic work, blogs and research.
All grades from formal assessments during your 2-year training count towards your HNC module mark.
All assessments are spread across the 2 years to make the workload manageable. The coursework will be based on portfolio work.
Further Qualifications
After successfully completing your BTEC Level 3 and HNC Level 4 it is optional for you to continue to work toward your HND Level 5. Please see further details: https://brushstroke.co.uk/hnd-level-5-makeup-course/
Award: Edexcel Pearson Higher National Certificate in Performing Arts (Technical
Arts) RQF Make-up and Hair
Awarding body: Edexcel Pearson
Course duration: 2 years taken concurrently with the BTEC Level 3 Diploma Course including additional Fridays.
Fees: £4,000, additional HNC Qualification fee. This can be paid over the duration of your remaining BTEC Level 3 termly payments.
Course leader:  Anita Perrett 
2 Year Makeup & Hair Diploma Course
BTEC & ITEC Level 3
(HNC Level 4 Optional)