Which Course is Best for Aspiring Makeup Artists?
Choosing the right one becomes an essential step towards a successful career. In this article, we provide a comprehensive guide on the variety of courses offered at Brushstroke Makeup School. Each course is designed to equip you with the tools, techniques, and professional insights needed to thrive in the makeup, beauty and entertainment (film and TV) industry. We'll help you understand the benefits and focus of each course to assist you in making an informed decision about the best path to achieve your career goals. Let's begin this exciting journey.
Course Breakdown
Brushstroke Makeup School offers a broad array of courses, each designed to prepare students for the dynamic demands of the beauty industry. The courses vary in their duration, core focus, and qualifications, giving students ample choices based on their career aspirations.
2-Year Makeup & Hair Course
The comprehensive 2 Year BTEC Level 3 Diploma course, spanning over two years, is meticulously designed to offer an in-depth focus on both makeup and hairstyling. It's one of Brushstroke's most robust programs, designed to cultivate a wide range of technical abilities in hair and makeup and an artistic understanding of aesthetics and style.
The first year of the course builds a solid foundation in the basics of makeup artistry and hairstyling. This includes fundamental techniques, health and safety protocols, understanding of skin types and tones, product knowledge, and more. The second year further builds upon these foundations, delving into more advanced topics such as special effects makeup, period hair and makeup, airbrushing, and advanced hairstyling.
Beyond the hands-on technical skills, the course also emphasises industry-specific knowledge. Students learn about the business side of the beauty industry, including professionalism, etiquette, client consultation, and building a personal brand. These skills are crucial for those aiming to become freelancers or entrepreneurs in the field.
Moreover, this course provides students with the opportunity to practice their skills in real-world settings, preparing them for a successful transition into the professional world. Opportunities for work experience and internships are often available, enabling students to network with industry professionals and get a taste of what working in the industry entails.
Upon completion of this comprehensive course, students will have a rich portfolio of work and a widely recognised BTEC Level 3 Diploma qualification, opening up a plethora of career opportunities in various sectors of the beauty industry.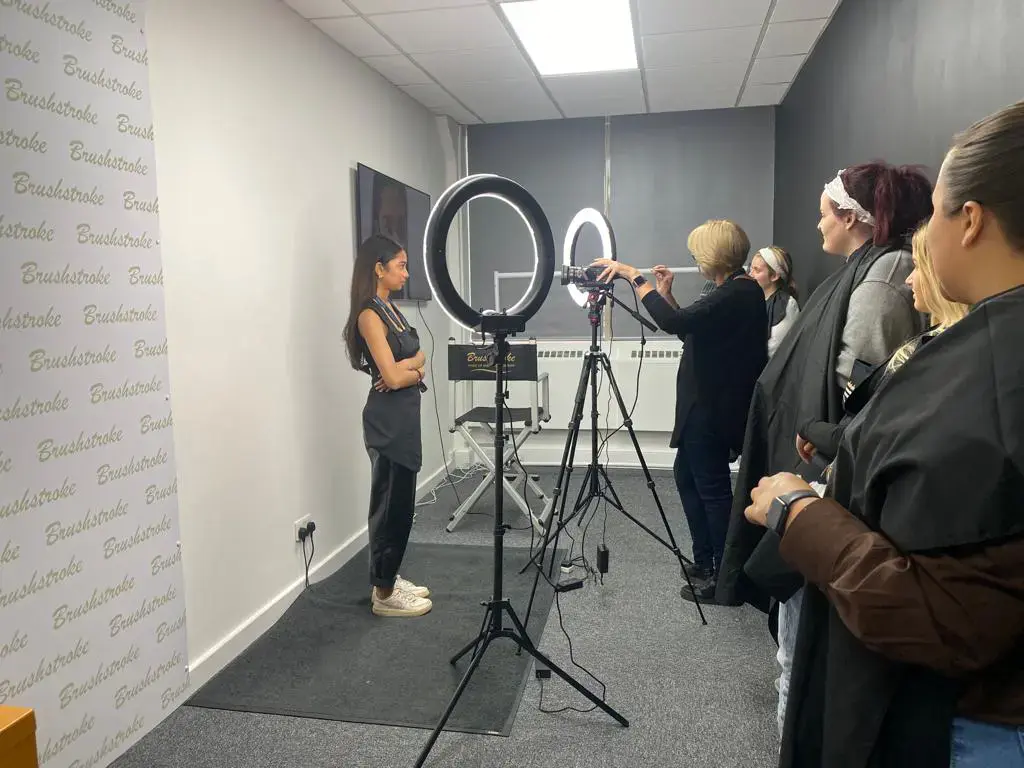 1-Year Women and Men's Hairdressing and Barbering Course
This VTCT Level 2 Diploma course is a one-year program that delves into hairdressing and barbering. It equips students with practical skills and theoretical knowledge in these specialized areas, ultimately helping them become proficient in both women's and men's hairdressing.
7-Month Makeup and Hair Course
The ITEC Level 3 Diploma course is an accelerated makeup and hair programme that can be completed in just seven months. It's an excellent choice for those looking students to gain substantial makeup and hairstyling skills in a shorter timeframe.
6-Month Makeup and Hair Course for International Students
This course, tailored specifically for international students, provides an intensive, six-month program leading to an ITEC Level 3 Diploma. This course is an excellent way to acquire essential skills in a compact timeframe, ideal for international students aiming to kickstart their career in the beauty industry.
HNC Performing Arts: Technical Arts Course
This Level 4 Diploma course hones in on the technical aspects of performing arts, focusing on skills and knowledge that are essential for makeup artists working in the performance sector.
1-Year HND Makeup and Hair Course
This Level 5 Diploma course runs for one year and builds on the skills and knowledge gained during the 2-Year Makeup & Hair Diploma Course. It's designed for those who wish to further specialise and advance their skills in the field. Each course is meticulously designed to equip students with sought-after skills and widely recognised qualifications such as BTEC, ITEC, VTCT, HNC, and HND. The variety of courses ensures that every student finds a program that suits their individual career aspirations.
Choosing the Best Makeup Course for Your Career Goals
When choosing the best makeup course for your career, it's essential to consider the course's syllabus, duration, and the professional qualifications you'll gain upon completion. Here's a detailed look at two of Brushstroke's courses to help you understand what to look for:
VTCT Level 2 Women's & Men's Hairdressing Diploma Course (1 Year)
The VTCT Level 2 Women's & Men's Hairdressing Diploma Course offers comprehensive training in hairdressing and barbering for both genders. This one-year program covers a broad range of subjects, from health and safety practices in the salon, client consultation, shampooing and conditioning the hair and scalp, to cutting women's and men's hair.
ITEC Level 3 Make-up & Hair Diploma Course (7 Month)
The 7 Month ITEC Make-Up and Hair Course is designed to meet the needs of people with time constraints or those desiring a swift career change. The course syllabus includes media make-up and hair, special effects make-up, airbrushing and editorial techniques, fashion make-up and hair, hair knotting, basic hairdressing and barbering, and bridal make-up and hair.
Ultimately which Course is the Best?
Investing in a professional course at Brushstroke Makeup School is a strategic step towards a promising career in makeup artistry. Our courses not only equip students with in-demand industry-specific skills but also foster creativity, innovation, and a deep understanding of the dynamic beauty and entertainment industry.
The highlight of our program offering is the 2-Year Makeup & Hair Diploma Course. This comprehensive course immerses students in practical, hands-on training across a broad range of makeup and hairstyling techniques, styles, and trends. Its robust syllabus, taught by experienced industry professionals, caters to all aspects of film, TV, stage, fashion, and media makeup, ensuring our students are industry-ready upon completion.
Our unwavering commitment to diversity and inclusion, showcased through our collaboration with the BBC, paves the way for students of all backgrounds to shine in the field.
We invite you to transform your passion for makeup and hair into a thriving career. Reach out to us for more information or to arrange a visit to our academy and discover the Brushstroke difference.
Contact Information
To arrange a visit or inquire further about our courses, please contact Brushstroke Makeup School by phone at +44 (0) 1344 635 522 or via email at [email protected]. Let us be your guide on your journey towards becoming a highly skilled makeup artist.