Hi there, I'm Danielle, a student at Brushstroke make-up school. I'm in my 2nd year now and, together with my class, I'm working on a series of projects for my final assessment. This blog is about how I planned, rehearsed and carried out an editorial look featuring glowy make-up.
The brief was to create – from scratch – a complete look for a fashion shoot within a set time limit. It's the kind of work that past student Elizabeth Rita is so good at. As well as the make-up and hair, it meant I had to think about the kind of outfit and lighting I'd want to use. When I finish my 2 year make-up course, I'll be looking for trainee roles so this kind of project helps me understand how a team works together to create a single look.
My friend, Cara Bevan, kindly agreed to be my model and this is how it went…
Planning The Glowy Make-Up Look
I love the early days of putting a look together, sifting through pictures and stories, collecting ideas and gradually building my own vision. Planning the various stages was also important to ensure the day would go as smoothly as possible. This included practice runs which, as you'll see, saved me a lot of stress…
Glowy make-up is the look of the moment but I wanted to do my own take on it using 2 central themes: monochrome and diamanté. The single colour was pink and the diamantes followed a pattern rather than being randomly applied. These 2 themes also made it easier to transfer my look from paper to Cara's face (creating a look exactly as planned was also part of the brief).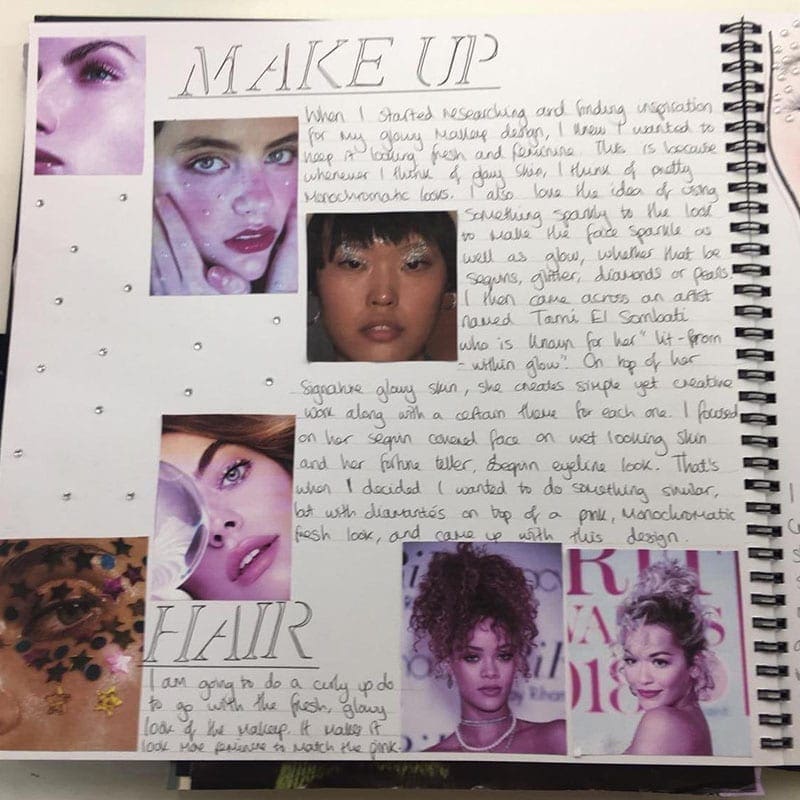 Inspiration from Pinterest and Instagram, as well as fashion magazines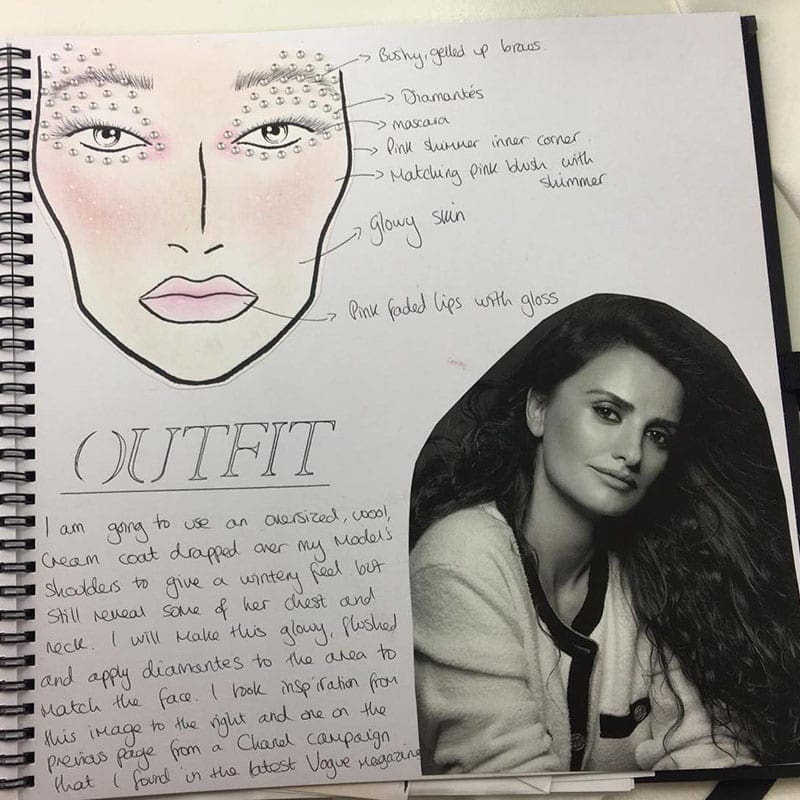 Pulling different ideas together helped me create one look that really gelled 
I collected my glowy make-up ideas – drawings, cuttings, snapshots and notes – in a large, traditional notebook which seemed more 'real' and easier to understand than keeping it on a phone or tablet. As well as being part of my portfolio for my final year on the
2 year make-up & hair BTEC
course, it will also be useful to have with me when I'm going for job interviews.
The Monochrome Glowy Make-Up
I started with Cara's hair – putting some hot sticks in so that by the time I'd finished the make-up, her hair would be a mass of soft curls.
Next, I cleaned and moisturised her face in preparation for my glowy make-up look. First off, Mac strobe cream to help brighten the skin, followed by a colour-matched foundation. I used a liquid foundation for light coverage and to ensure it worked well with other products. Then, I 'stippled' on the highlighter to help set the foundation (I wasn't using powder so a solid foundation was even more important). I didn't use my favourite highlighter this time because it gave a very patchy effect in an earlier practice session. Luckily I had the time to find one that worked well.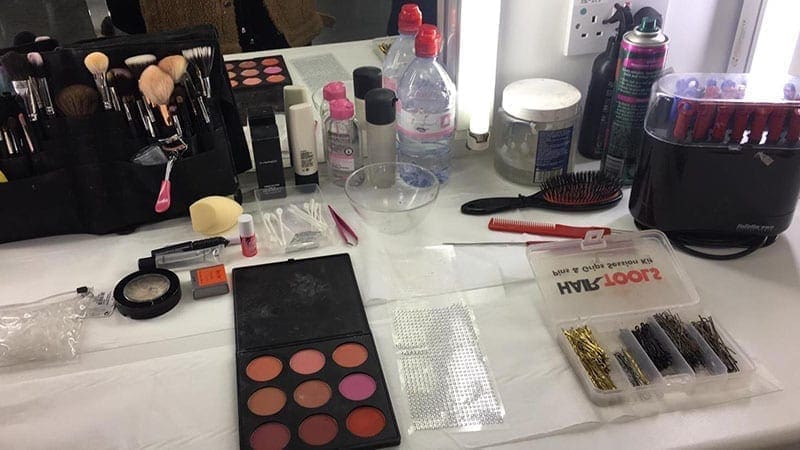 It's a good idea not to have every single bit of make-up kit you own out on show! The BTEC Assessors want to see a clean working space. Working out exactly what I needed for my glowy make-up look meant I didn't confuse myself with unnecessary products or kit.
I had spent time carefully selecting and matching the pink I wanted to use so it was truly a monochrome look throughout – eyes, cheeks, lips. For this reason, I used blusher on Cara's eyes to ensure a true match.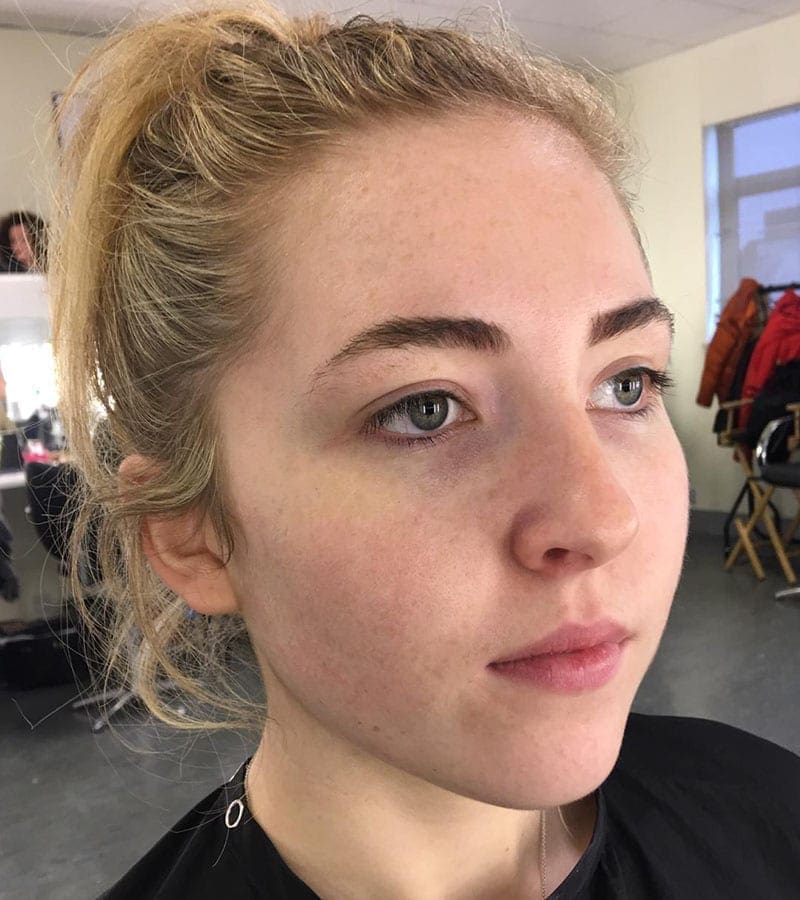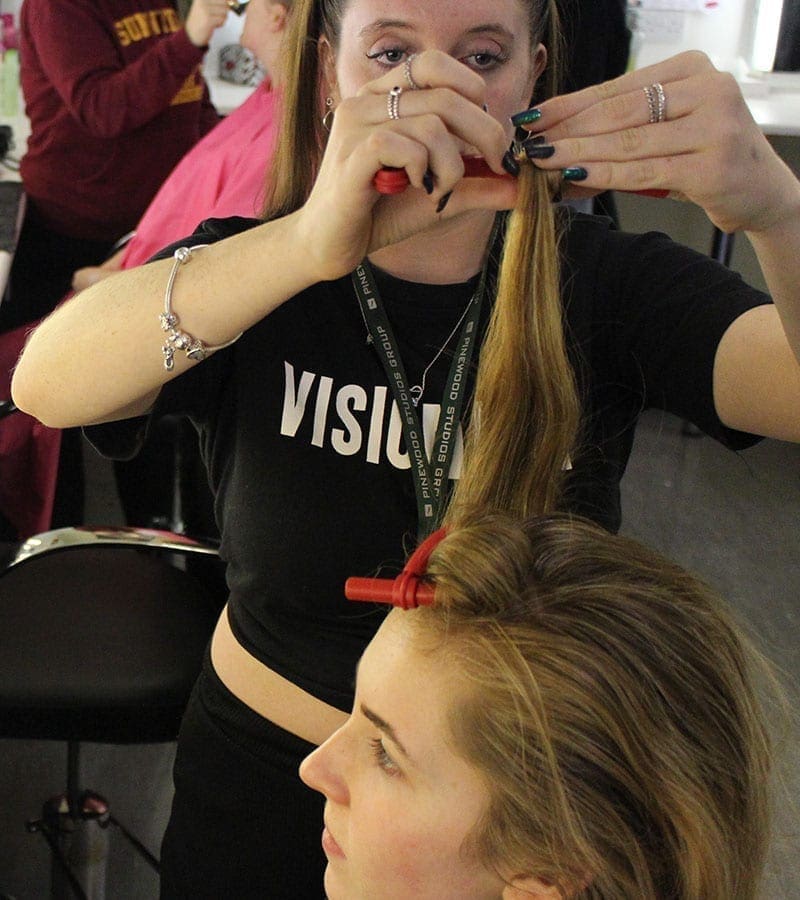 Task No.1 : hot sticks to create soft curls
Precision Diamanté
Using tweezers, I started applying the diamantes at the inner corner, working round each eye in a curve, then diagonally up towards the forehead. I worked on both eyes more or less at the same time, switching back and forth to complete each section or line before moving on. That way I could ensure the pattern matched on each eye and the overall look reflected the face chart.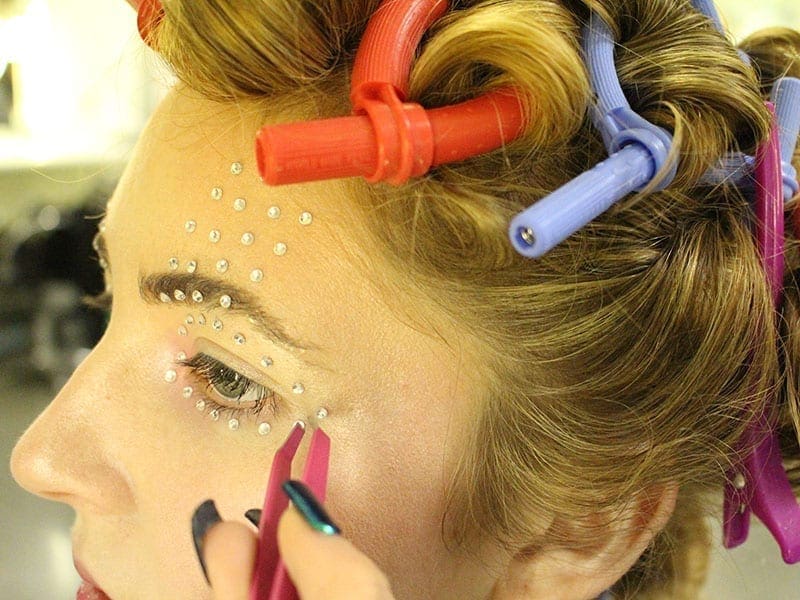 Line-by-line, the diamantes are placed carefully round Cara's eyes – switching back and forth and completing each section or line before moving on.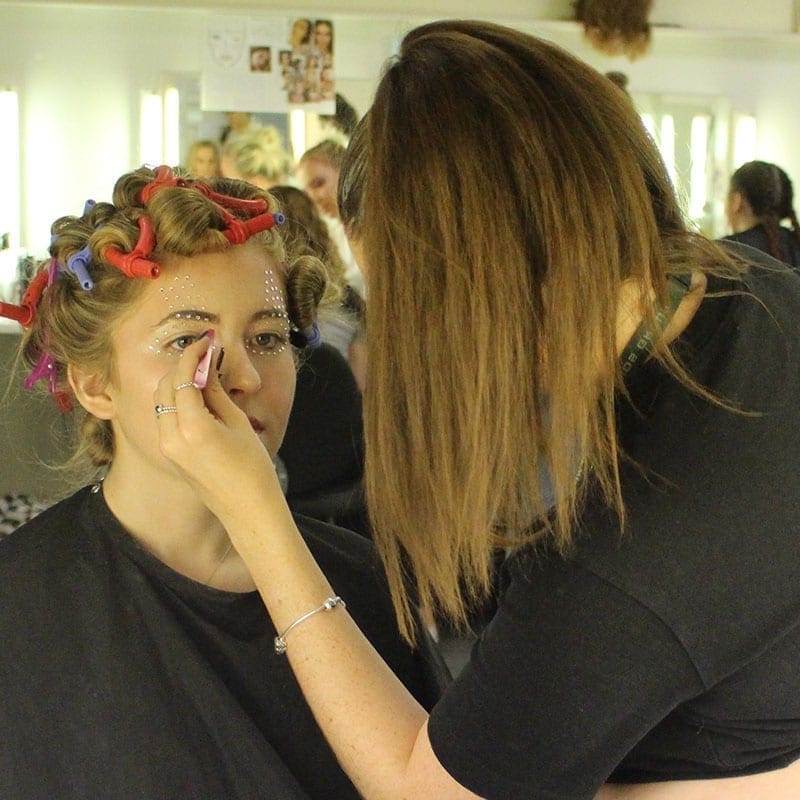 The Messy, Up-Do Featuring A Big, Curly, Top Knot
I wanted the hair style to work on its own but, more importantly, to help 'frame' my glowy make-up look. A relaxed style, featuring a wispy bun on top was the plan. But when I rehearsed the look it was too messy, too 'bed head'. So back to my search engine and magazines! I also had to bear in mind that Cara has naturally curly hair. It's also very thick so straightening it, in the timescale, was out of the question just in case it went frizzy. Anyway, a relaxed curl was still my preferred style for the overall look I was creating.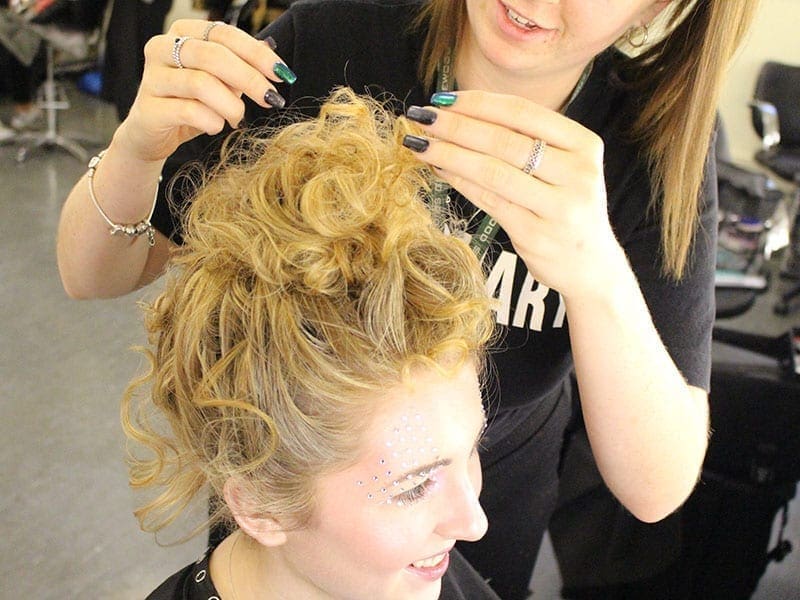 Just what I wanted – a messy, up-do featuring a big, curly, top knot
Then I found a picture of
Rita Ora 
with a messy, up-do featuring a big, curly top knot – it was exactly what I had imagined in the first place.
Taking the hot sticks out, I loosened Cara's curls, gently massaging to help break them up. Then, pony tail on top of head, a few curls clipped into position – and it was done.
The Complete Glowy Make-Up Look
A Chanel ad in a copy of Vogue helped me decide on the costume to give an 'ice queeny', wintery impression. My own fake fur coat was perfect – more of a 'prop' really. I then used the same strobe, highlighter and blusher on the exposed areas of Cara's shoulders and neckline.
Finally, the brief wanted me to think about the kind of lighting that would complement my glowy make-up look. I recommended a softbox to diffuse and reduce any harshness as well as some natural light to really highlight the glow I'd created.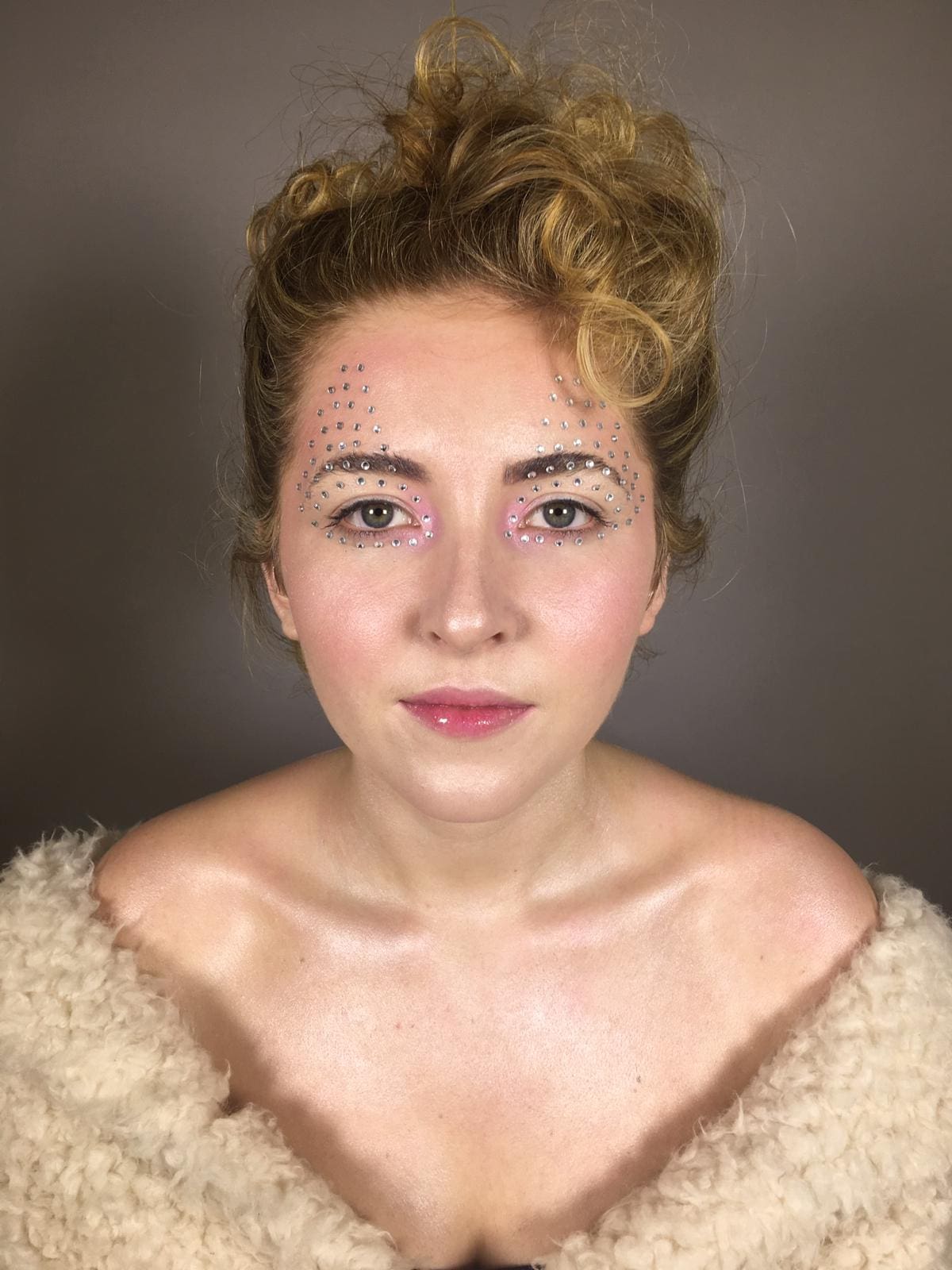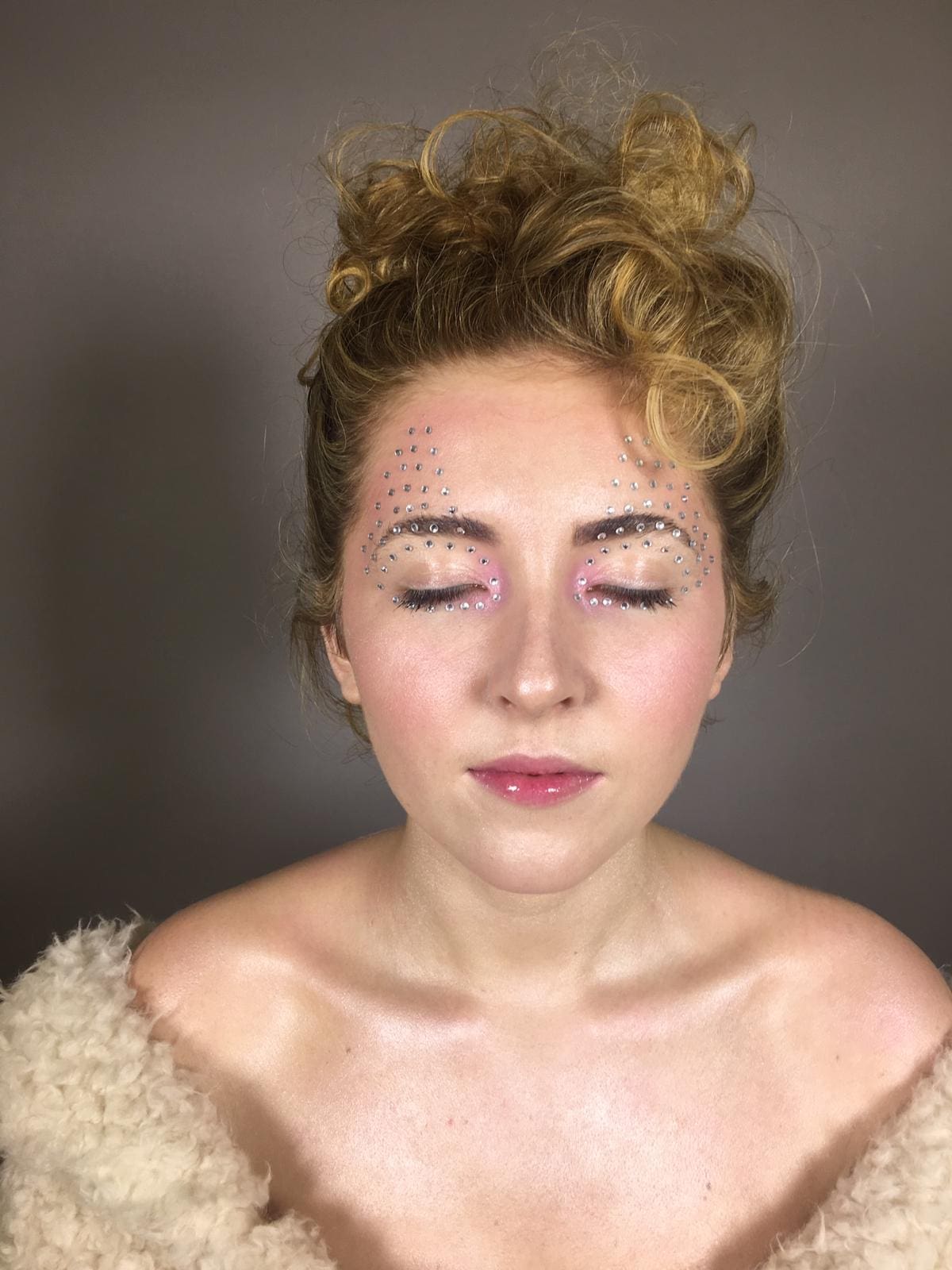 TaDa! Glowy make-up with a messy, up-do featuring a big, curly, top knot
So What Did My Glowy Make-Up Editorial Project Teach Me?
I'm really happy with how my glowy make-up editorial project turned out. It taught me lots of things but these 4 stand out:
Learn how to recreate a look – exactly. Whether you're following a designer's vision or keeping on top of continuity, being accurate is absolutely key.
Think ahead and rehearse. Do your homework – from the kit you need, to how you'll create a look. Just don't leave it until the day itself!
Understand how products behave in different circumstances – and don't expect to be able to fall back on your favourites!
Don't panic but do focus – and get good at time management.
Finally, thank you for being my model, Cara!
(This blog was originally posted on Warpaint Magazine)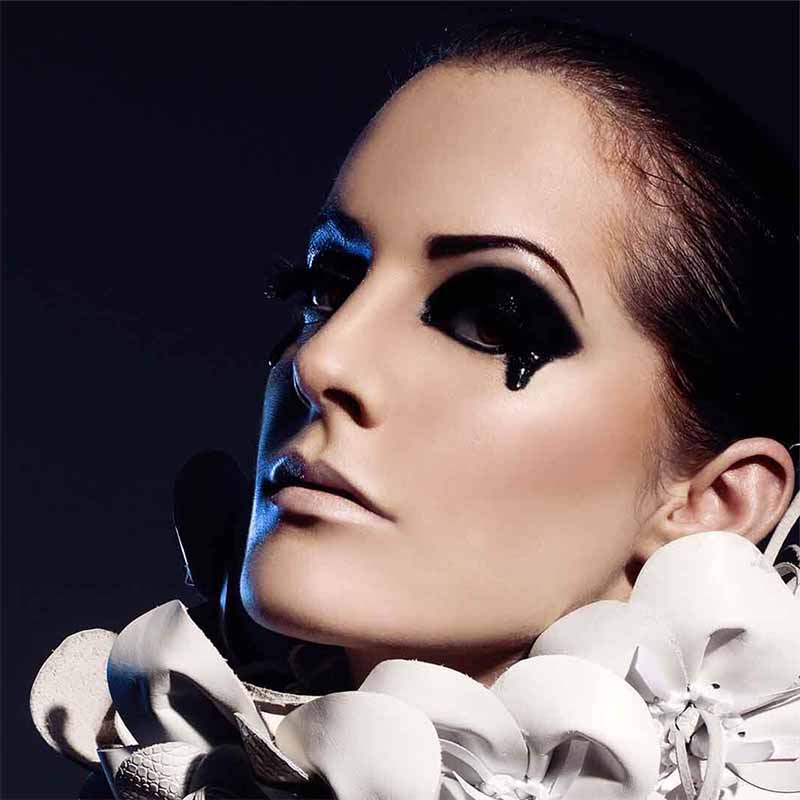 2 Year
Makeup & Hair Course
BTEC, Level 3 Diploma
Our most thorough training to prepare you for a career as an artist in TV, film, stage and fashion.
Hope you found this blog inspiring – if so please share!