Back to school, and for our students starting at Brushstroke after the summer break, it's definitely something they're looking forward to. That's because they know it's more than a make-up school. It's the best specialist training for people wanting careers in film, TV, stage and fashion. It'll be hard work, but also an amazing journey of discovery. And fun.
Attending Brushstrokemake-up school is great preparation for working as an artist in the world of entertainment. Not only do we train you in the different skills and techniques, but we also show you the many, many 'faces' of working as a make-up artist. Take our picture of Barney Nikolic and James Anda above – 2 specialist artists and much-respected tutors at Brushstroke. Barney is the Prosthetics King (Harry Potter, Penny Dreadful and Thor), James the Fashionista (Paris fashion shows, Elle, Vogue and Marie Claire). That's how diverse the industry is and that's what we represent.
We've got 2 qualification courses starting very soon – the 2 Year Make & Hair (BTEC) in October and the 9 Month Make & Hair (ITEC) in September. We'll be teaching skills and confidence, and sharing a wealth of experience and knowledge.
A syllabus full of make-up skills
We know that working in beauty interests many young people. At Brushstroke make-up school we cover important aspects of beauty therapy such as skincare and pre make-up preparation. Then, our students begin to learn about anatomy and face shapes so they understand how to get the look they want.
At Brushstroke make-up school we feel you should learn more than just how to tidy and tweak. Here's just a snap shot of what we mean by that:
Media make-up and hair
Essential training to turn you into a versatile make-up artist across all areas of film, TV and stage, including hairstyling and wig-making. This is true confidence-building to help students take things in their stride whatever the demands of the script (aging, period, blood and gore, 'no make-up'). Or the demands of the day such as hundreds of supporting actors, production-line speed, nasty weather, etc.
Fashion make-up and hair
This is pure fashion, and a must for those interested in beauty. It'll open up a world of fashion shoots, red carpet events, bridal and individual celebrity work.
Airbrushing and editorial techniques
These are very precise skills – spray brush control and the application of full make-up for HD editorial purposes. Colour matching, highlighting and contouring, and no need for Instagram filters.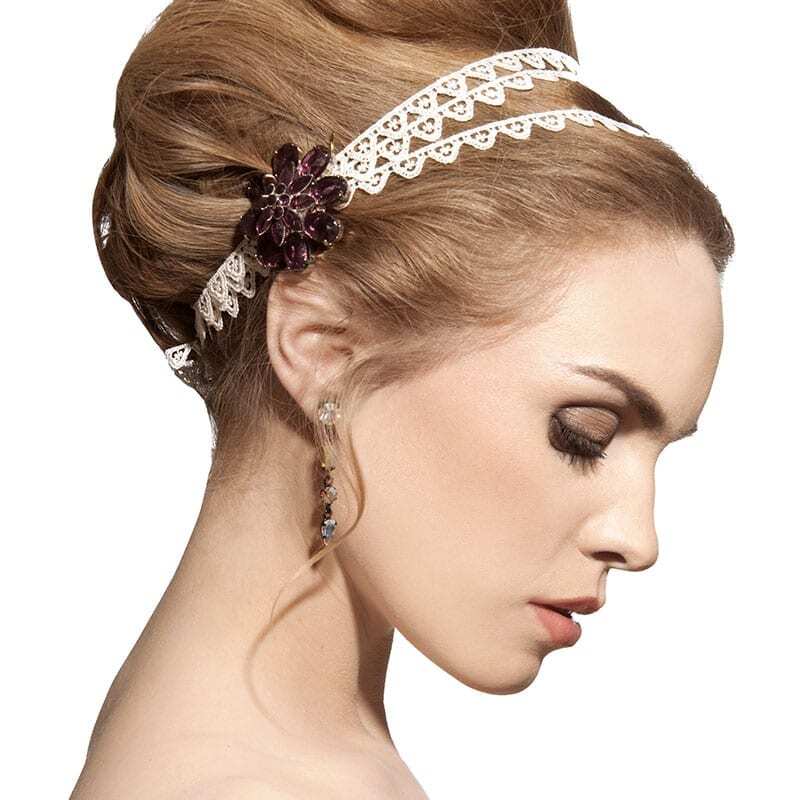 Beauty and Fashion at Brushstroke make-up school
Hair cutting, styling and extensions
Achieving different effects with hair (for men and women) takes skill and confidence – cutting, styling and working with extensions. These are key skills we teach – much in demand by the those putting make-up teams together across all areas of the industry.
Special effects make-up and prosthetics
This is where students learn to create individual sfx and prosthetics – from a simple wound or witchy nose to a proper, full-on character. Equally importantly students are taught how to remove and maintain prosthetic pieces to ensure continuity of look in every scene.
That's what we mean by a proper make-up school syllabus.
A peek inside Brushstroke make-up school
Great tutors and a motivational learning environment are all part of the Brushstroke make-up school experience.
Skilled and award winning make-up tutors
We encourage our students to come to Brushstroke with an open-mind rather than focus on, say fashion or prosthetics. That way, they can take full advantage of our tutors and their individual talents. Every single one of our tutors is an artist in their own right, skilled in very particular specialist areas. Basically, they teach an impressive range of skills to match the wide range of work that's out there.
When they aren't teaching at Brushstroke, they're working on films such as Mamma Mia and Mary Poppins Returns. We have tutors with extensive experience in soaps (continuous drama, to use its proper term), comedy, drama series (Mum, Eastenders, Call the Midwife). The prosthetics and sfx creations of our tutors feature in the world's best-loved films and TV programmes (Game of Thrones, TNT's Will). Students learn from fashion and beauty make-up experts who understand the editorial and catwalk scene (4 of our tutors are dedicated hair artists, including fantasy).
There isn't an area our tutors can't teach, and when they need a helping hand on set they invariably take along some of students for real experience. This allows the students to use their newly-learnt skills and develop their understanding of the world of make-up even more.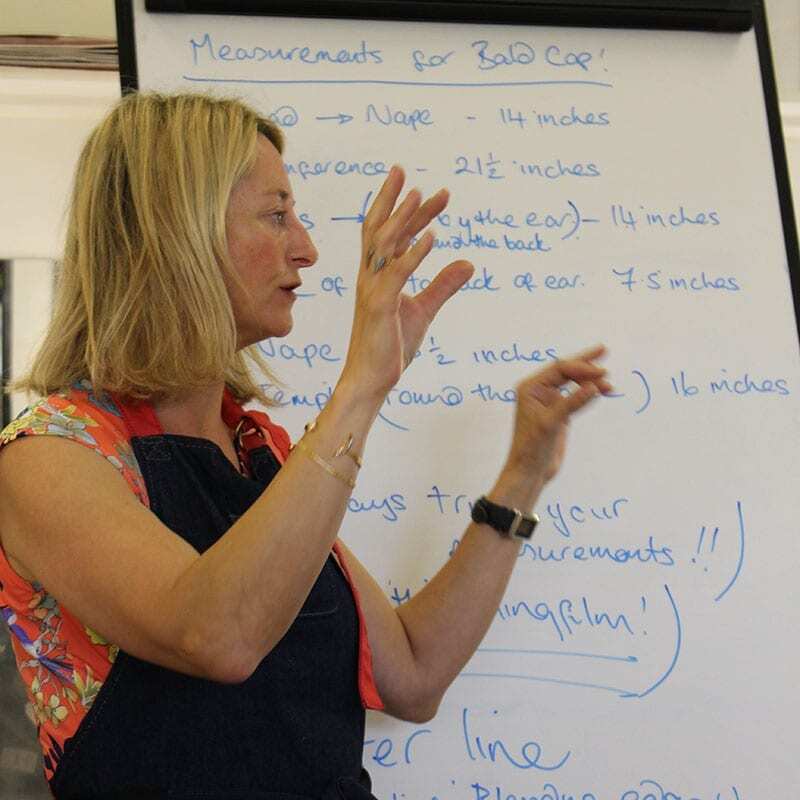 Catrin Thomas 'conducting' a class on bald caps!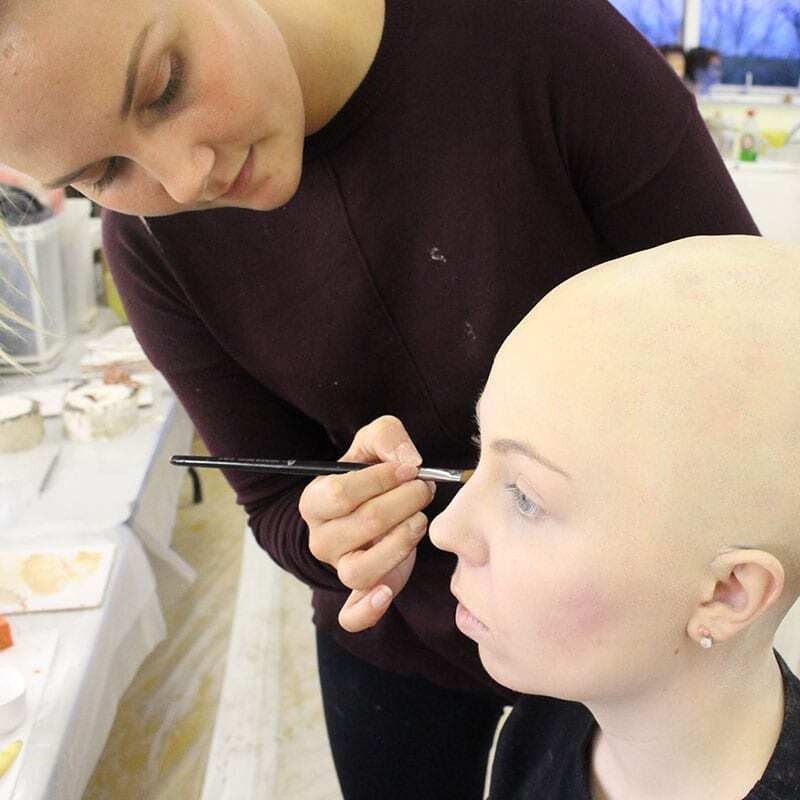 And this is a what a bald cap looks like…
An awesome learning environment
Well, let's start with the location of Brushstroke: Shepperton Studios and Pinewood. The make-up school is located at Shepperton and where the students are taught. Shepperton Studios is just as influential as it was in the early days of Clockwork Orange, Alien and The Elephant Man. Today, films as diverse as Life and Christopher Robin are being made at Shepperton. To our students, it's inspirational because everyone is focused clearly on achieving great things. Carpenters, technical folk, set builders, lighting, props – all going about their business.
Walk down David Lean Drive, into the Orson Welles building, up the stairs to the first floor and you'll find the spacious facilities of Brushstroke's make-up school. We have 4 large make-up rooms, a special effects and prosthetic workshop and a separate wig room. We also have a well-equipped photographic studio which the students use to view their work and create their portfolios.
Past Brushstroke student, Liz Patey, sharing her tips for success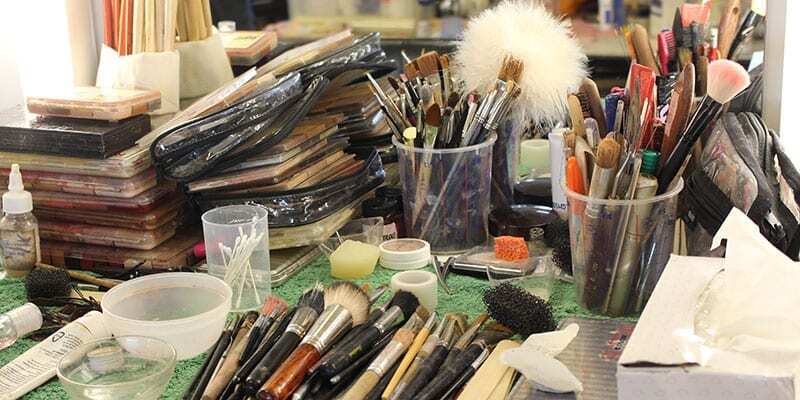 Just a small selection of the make-up artists' kit!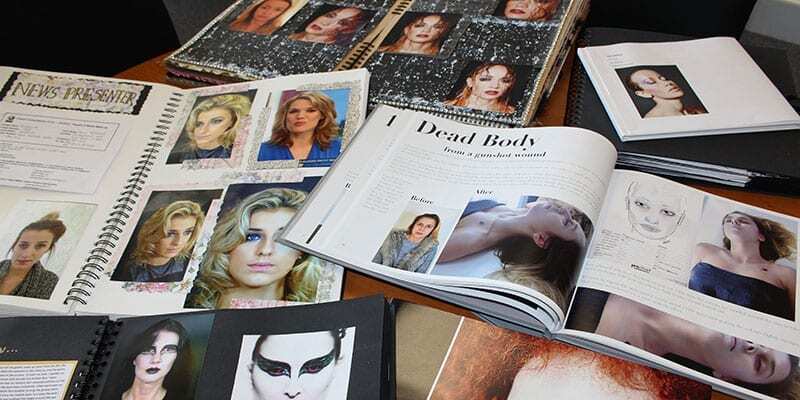 Portfolio development is an important part of the syllabus
The products and equipment at Brushstroke are absolutely the type the students will be using when they start work. And, as technology, trends and techniques change, we keep up to date and encourage the students to do the same. We teach them how to select and use the tools of their trade, from brushes to airbrush compressors. Then they can build and look after their own make-up and hair kit.
'Employment-readiness' is our goal
Trends and techniques might change, however, the principles of make-up and hair artistry remain the same. This means there is no substitute for good, solid training with 'employment-readiness' firmly set as the goal. That's what we offer at Brushstroke make-up school.
(We may still have places on our courses – follow the links (and think about visiting us anyway).