We've got our very own Royal Wedding Make-Up stories. Brushstroke tutor, Anita Perrett, was on Sky TV presenter duty with past student Philippa Miles for the event of the year – the wedding of Prince Harry and Meghan Markle on Saturday 19 May 2018.
Meanwhile, past Brushstroke students, Alix Holdaway Salmon and, both worked as make-up artists for some notable guests and participants.
Alix's packed schedule started on a Friday evening, with hair prepping for an actor and member of the German royal family. Then on Saturday morning, attending to the hair of 2 little bridesmaids. Finally, complete hair and make-up for more guests in readiness for the evening celebrations.
Meanwhile, Rosie concentrated on her client, Elin Manahan Thomas, the soprano who sang during the church service.
This is what happened with Alix and Rosie.
Alix Holdaway Salmon's Day
On her Royal Wedding make-up assignments, Alix certainly put to good use the
hair skills
she learned as a student on the Brushstroke
2 Year BTEC
course (2011-2013).
On the Friday evening, Alix arrived to prep the hair of 2 guests – American actor Troian Bellisario (Freeform's Pretty Little Liars) and Princess Cleopatra von Adelsheim from Germany.
"Both my clients wanted their hair sorted the night before so they'd just be ready to go on the morning of the wedding," said Alix. "So once their hair was washed, I concentrated on blow drying and styling but using very little product to help keep the shape for the next day."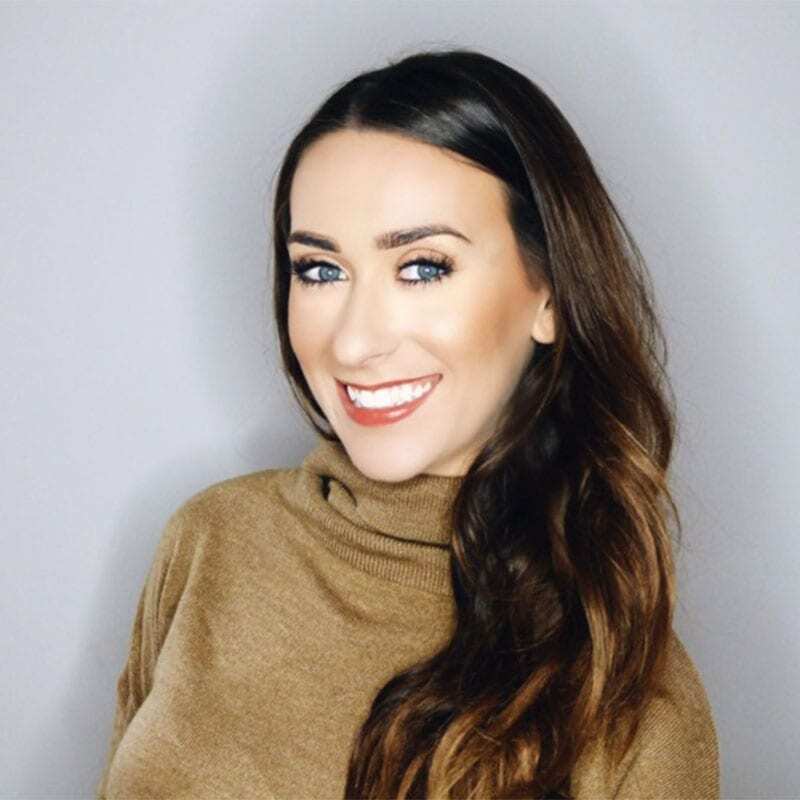 Make-up artist, Alix Holdaway Salmon
The following morning, Alix travelled to Coworth Park Hotel in Ascot, to style the hair of Meghan's 2 little goddaughters,
Remi and Rylan Litt
. Not surprisingly the girls (aged 6 and 7) were very excited about the whole day, including having their hair styled. They even gave Alix a quick lesson in how to curtsy, just in case.
"We didn't want to over-style the girls, as they are so young. So a quick blow dry and soft curls were enough to make them look the part. And I'm pleased to say that the curls held up despite all their running around!"
Turn up, understand what's needed and get on with the job
Alix's final work for the big day included both make-up and hair for guests of the Saturday evening celebrations. Princess Cleopatra von Adelsheim was her client again, as well as Silver Tree, a director of American TV drama, Suits. Though the ladies each wanted a very different effect, they both relied on Alix's skill and advice to help them achieve something they were comfortable with and that suited them.
"The Princess was keen on a natural look while for Silver I worked on achieving something more relaxed and romantic complete with smokey eyes."
Alix hadn't discussed her clients' needs before meeting them. "It's important as a make-up artist to be able to just turn up, understand what's needed and get on with the job. Though the work was quite straightforward, we had a fairly strict schedule. And the event was very high profile!"
This kind of 'celebrity' make-up and hair job balances nicely with Alix's other work in TV (for example, The Honourable Woman with Brushstroke tutor, Marella Shearer). "Though I keep coming back to weddings and fashion photoshoots, I really enjoy the variety of my work and the fact that a TV drama might be next or a music video or a studio-based sport programme…"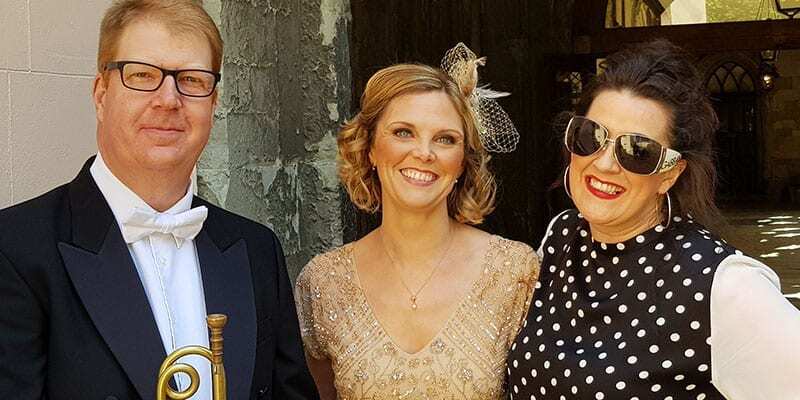 Rosie Scott's Day
Rosie attended our 3 Month Fashion Make-Up and Hair course in 2010, having changed her career from media sales.
Her Royal Wedding make-up work was purely focused on soprano, Elin Manahan Thomas in readiness for her performance during the church service, and later for some media interviews. A resident of Windsor herself, Rosie had experienced the build-up which properly started on Monday. "Once the media circus arrived, it just got bigger and bigger!"
Rosie's appointment with Elin was at 8 am in a private room in St George's House, at the back of the Chapel.
"I'd already had a chat with Elin the week before so I knew the kind of look she wanted to achieve for her make-up and hair. We went for a toned-down 'wedding' style – something classic, not too overwhelming.
"Elin told me that her lovely dress was Monsoon and I knew she was wearing classic earrings and a necklace loaned from Clogau, the company who made the royal couple's wedding rings. So my job was to make sure her make-up and hair complemented this super, natural look."
According to Rosie, Elin loves wearing false eyelashes: "It took me about 5 minutes to apply some Eylure individual lashes and they did add a certain wow factor to her lovely blue eyes."
Rosie's choice of foundation was Estee Lauder Doublewear Light. "It gives a nice, natural coverage – not too heavy. It's also really good in photos and on TV."
Then Chanel Rouge Coco Shine (no. 54 Boy) for Elin's lips.
Elin's hair is a longish bob so Rosie simply used her favourite Diva wand to help accentuate her natural curls. Then she pinned a fascinator in place.
You are part of the performer's support network
While Rosie worked, Elin did her vocal warm-ups and generally got herself in the zone. It's a very important part of the make-up artist's role to help performers get ready: "Elin is a professional and well used to high profile performances but I still wanted to do everything I could to make her feel comfortable and relaxed so she could enjoy the whole experience," said Rosie.
"We both have a job to do but that doesn't mean you can't enjoy yourself! So we had a chat about normal stuff while she was warming up her voice. Elin's husband was nearby and together we were her vital support network."
Like Alix and her clients, Rosie and Elin were also working to a tight schedule – 1.5 hours was the allotted time. Then Rosie noticed that the male soloist (a trumpeter) accompanying Elin, needed a bit of make-up to reduce a shine on his face resulting from the heat more than nerves. So he let her apply just a bit of colourless Vichy Dermablend setting powder.
Rosie and the conductor's wife watched the event on TV in George House – with a glass of bubbly. Then she was back with Elin, up to the media suite at the top of Windsor Castle. After Rosie had quickly re-touched her make-up, Elin was ready for her interviews with the BBC, ITV and Sky.
Rosie regularly balances this kind of fashion and wedding-related work with TV assignments (such as Celebrity Antiques Road Trip). She also works in the corporate world – for big brands and individual executives.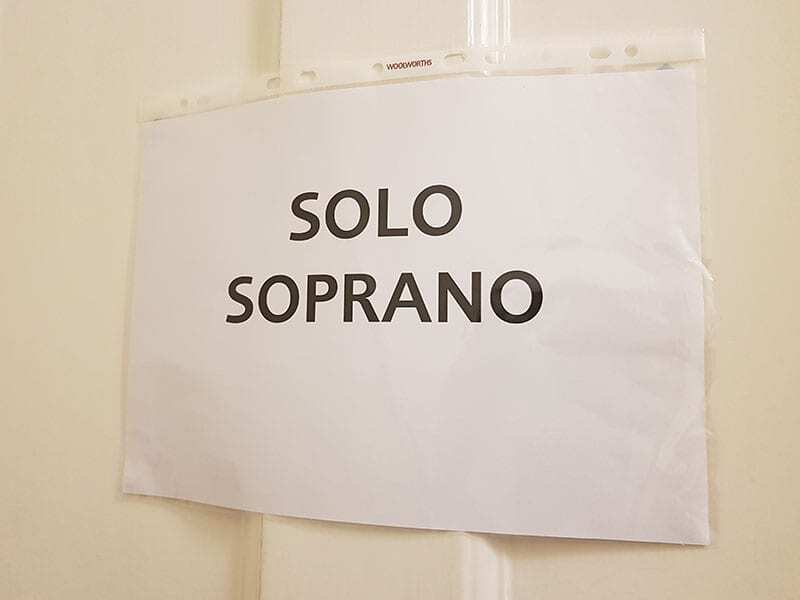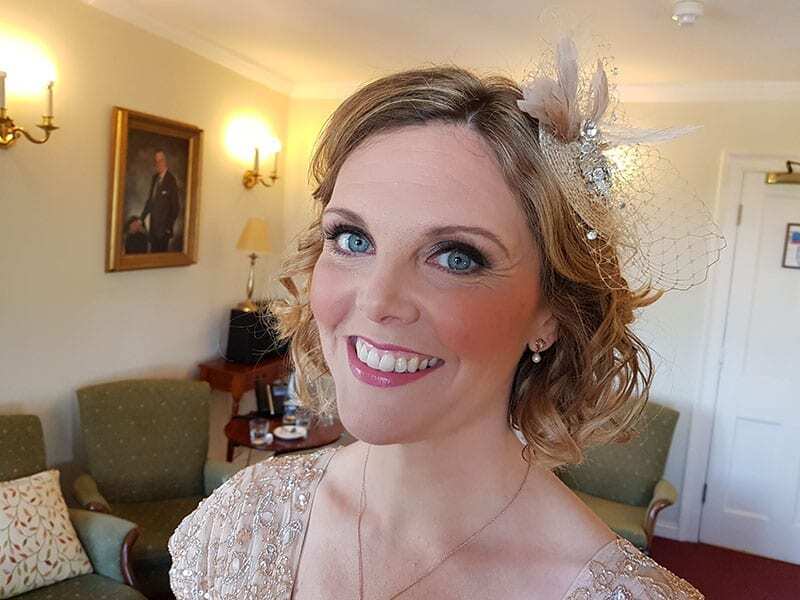 Elin Manahan Thomas ready to perform.
How Alix and Rosie got chosen as make-up and hair artists at the Royal Wedding
Prince Harry's and Meghan Markle's wedding was clearly a wonderful experience for Alix and Rosie. Both felt privileged to be involved in such an important event and the part they both played as make-up and hair artists.
How did they come by the Royal Wedding make-up jobs? Recommendations from people who had hired them before. Alix's resulted from her work with the royal family in the past and having been a freelance make-up artist for the Coworth Park Hotel.
Similarly, Rosie knew Elin's best friend, Annabel, as a client of her business LookLuxe. Annabel recommended Rosie having experienced her make-up and hair skills first hand.
The message is clear: always do a great make-up and hair job (both technically and personally), network like a professional and encourage word of mouth. Then repeat.
Rosie's product checklist:
Eylure individual lashes
Estee Lauder Doublewear Light foundation
Chanel Rouge Coco Shine (no. 54 Boy)
Diva Pro Conical Wand
Vichy Dermablend
You can follow Alix's and Rosie's careers at:
Alix
Rosie